Here's What Executives Say About the Possibility of a U.S. Recession
by and
David Gladstone says `We need to be very, very cautious'

John Thain says `Low energy prices do not cause recessions'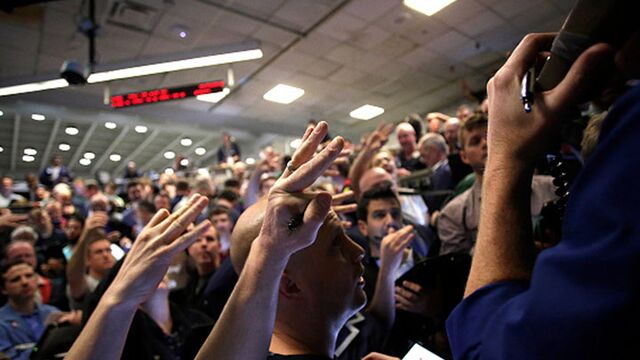 Executives across corporate America are being asked for their views on whether a recession is in the offing.
Growth in the U.S. decelerated to a 0.7 percent annualized rate in the fourth quarter as companies contended with a slower global economy. The median probability for a U.S. recession in the next 12 months jumped to 19 percent in last month's Bloomberg survey of economists, the highest since February 2013.
As stock and oil prices slide, executives are offering their perspectives on the economy in conversations with analysts and investors. These comments were collected by Bloomberg from earnings calls, meetings and conferences the past three weeks.

John Thain, chairman and chief executive officer, CIT Group Inc.:
"Given the recent performance of the equity market and our stock price, the market seems to indicate a recession is imminent. I don't see that. Low energy prices do not cause recessions. While the energy sector itself is weak, the U.S. economy is still growing." (Feb. 2)
Stephen Schwarzman, chairman and CEO, Blackstone Group LP:
"While it's always possible that a market correction becomes something more significant, we, at Blackstone, do not see a recession in the U.S. We do believe that global GDP growth is slowing, and we've seen a slowdown within certain sectors and regions in our global portfolio as a result." (Jan. 28)
John Kite, chairman and CEO, Kite Realty Group Trust:
"There is a lot of prognostication that we're very close to entering a recession, which is not tough to say when your GDP growth rate is on the margin to start with." (Feb. 5)
Martin Barrington, chairman and CEO, Altria Group Inc.:
"You see speculation in some quarters about recession clouds looming. That obviously would change everything. But we go into the year feeling pretty good about the adult tobacco consumer." (Jan. 28)
Alexander Cutler, chairman and CEO, Eaton Corp. Plc:
"We're in this frustratingly slow environment that can often cause people to use the 'recession' word. But I think that's almost more of an emotional issue than it is a factual basis. We think the GDP is likely to grow in the mid-two-percents again this year. However, if you're on the industrial side of the economy, we're seeing industrial production numbers that are more like one percent." (Feb. 3)
Steven Hilton, chairman and CEO, Meritage Homes Corp.:
"I'm not seeing any signs of recession from the housing perspective. December was a very good month for us. January, we're off to a good start. I'm not seeing anything on the horizon outside of Houston that leads us to believe there is a recession." (Jan. 28)
David Farr, chairman and CEO, Emerson Electric Co.:
"The last 30 days have been what I would call the most unusual in my time at Emerson. I've never seen a marketplace go so volatile from the standpoint of the end markets, the stock markets, the interest rates, the – I guess the attitudes. It's just a very amazing marketplace right now and one that clearly global CEOs like myself have to deal with and be prepared for." (Feb. 2)
Bernard Duroc-Danner, chairman and CEO, Weatherford International Plc:
"The black swan issue is a possibility of a worldwide recession, which would abruptly arrest the growth in oil demand. There's much focus on the sustainability of GNP growth rates in various countries, particularly all-important China. And obviously, worldwide recession would adjourn all considerations of oilfield recovery for the duration of the recession." (Feb. 4)
Charles Stevens, chief financial officer, General Motors Co.:
"The bears argue the industry in the U.S. has peaked and is ready to roll over. They often cite the fact that the U.S. auto industry is in seventh year of expansion, margins are as good as they get, and a recession is right around the corner, really more akin to a scenario that we saw in 2007. On the other hand, a number of people, including GM, believe the industry is plateauing with many years of strong performance ahead." (Feb. 3)
Patrick Ottensmeyer, president, Kansas City Southern:
"I was at a rail industry conference last week and I thought one railroad executive characterized the current landscape quite well when he said, and I'm paraphrasing here, we are in an energy market depression, an industrial and manufacturing recession, but somehow, the consumer is doing OK." (Jan. 22)
Frank Hermance, chairman and CEO, Ametek Inc.
"We are in an industrial recession right now. That's the view that the consensus of all of our managers is that we are in an industrial recession. However, this recession -- what I'm saying -- we're in now is different. It's not as deep, start there." (Feb. 5)
Jeremy Freedman, CEO, Gluskin Sheff & Associates Inc.:
"There is not a very high likelihood of a recession to the U.S. or globally. And as a result of that actually, we think the markets have priced in much worse news. It is likely to be the reality. So we're quite optimistic actually." (Feb. 4)
Jamie Pierson, CFO, YRC Worldwide Inc.:
"There is actually an industrial recession -- or at least softening -- in the market right now that we're experiencing today, that we don't think is going to change today or tomorrow. I think it's going to be a couple of quarters and maybe not even until the back half of 2017. " (Feb. 4)
Jan Kees Van Gaalen, CFO, Kennametal Inc.:
"We are experiencing what we believe to be a U.S. industrial recession, as well as a deceleration in economic activity in China, the extent of which was not anticipated in our prior guidance." (Feb. 3)
David Gladstone, chairman and CEO, Gladstone Investment Corp.:
"It's our opinion that we may be entering a recession now and we need to be very, very cautious and make sure new investment can weather the storm."
"We don't see anything on the horizon that indicates a strong economy, but there are some signals out there that we are entering recession. We still look at what the Federal Reserve is doing and its monetary policies. I think it will take a while before we understand what they're up to." (Feb 4.)
Before it's here, it's on the Bloomberg Terminal.
LEARN MORE