Goldman Sachs Says Defy 'Mr. Market' as Recession Risk Still Low
Bank sees a 25% risk of developed world recession in next year
by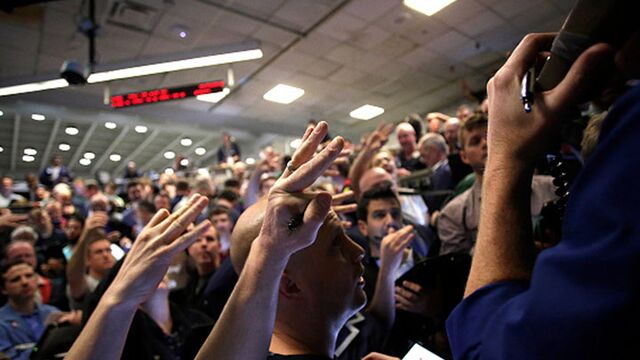 Goldman Sachs Group Inc. is betting "Mr. Market" is wrong in its recession warnings.
While sliding stocks, declining long-term bond rates and higher credit yields are sounding the alert, the New York-based bank's economics team led by Jan Hatzius is more confident about the outlook for the developed world.
Their model, based on a series of economic and market indicators, points to just a 25 percent risk of recession in the industrial economies in the next four quarters and 34 percent over the next two years. Both undershoot the average risk of the past 35 years despite the recent fears of financial markets.
The probability of a slump in the U.S. is just 18 percent and 23 percent over the two timeframes respectively, while the euro-area threat is greater at 24 percent and 38 percent, according to Goldman Sachs.
"The recent market weakness should provide good risk-adjusted opportunities for those brave enough to defy Mr. Market's gloomy prognosis about the world economy," Hatzius and colleagues said in a weekend report.
Not Always Right
Their prognosis is aligned with that of Bruce Kasman of JPMorgan Chase & Co., who says the probability of a U.S. recession in the next 12 months has grown yet is still only about a third. 
Of course, economists don't always get it right. Former U.S. Treasury Secretary Laurence Summers recently noted that the International Monetary Fund failed to predict 220 recessions between 1996 and 2014.
Goldman Sachs bases its current call on a model of 20 economies dating back to 1970 and featuring indicators such as output growth, equity prices and house-price changes. It defines a recession as a year-over-year decline in growth per capita.
Of those it studied, the U.K. faces the lowest recession probability at 3 percent in both the next year and the next eight quarters, according to the model.
Not all are in the clear. The likelihood of contraction is 42 percent in Japan for the next four quarters and 62 percent over two years. Oil-rich Norway's chances top 80 percent in both cases.

Goldman Sachs isn't completely bullish. It last week said it now expects the Federal Reserve to raise its benchmark interest rate next in June rather than March and last week cut its 2016 forecasts for 10-year bond yields in the U.S, Germany and Japan.
So how to align the markets with the model? Goldman Sachs notes in the case of the U.S., several past panics failed to trigger a recession.
Among them, the 1987 stock market crash, 1994 bond market selloff, 1998 collapse of Long Term Capital Management, 2002 blowout in corporate credit and 2011 euro-area debt crisis.
"In each case, at least some financial markets were priced for significant recession risk," the economists said in the Goldman Sachs report. "This created significant investment opportunities for investors willing to adopt a more constructive view." 
Before it's here, it's on the Bloomberg Terminal.
LEARN MORE