business
Gold Traders Are Betting on a Bigger Comeback
By
Eight of 10 most-traded gold options Monday were bullish bets

Put-to-call ratio for top gold ETF is near lowest since 2008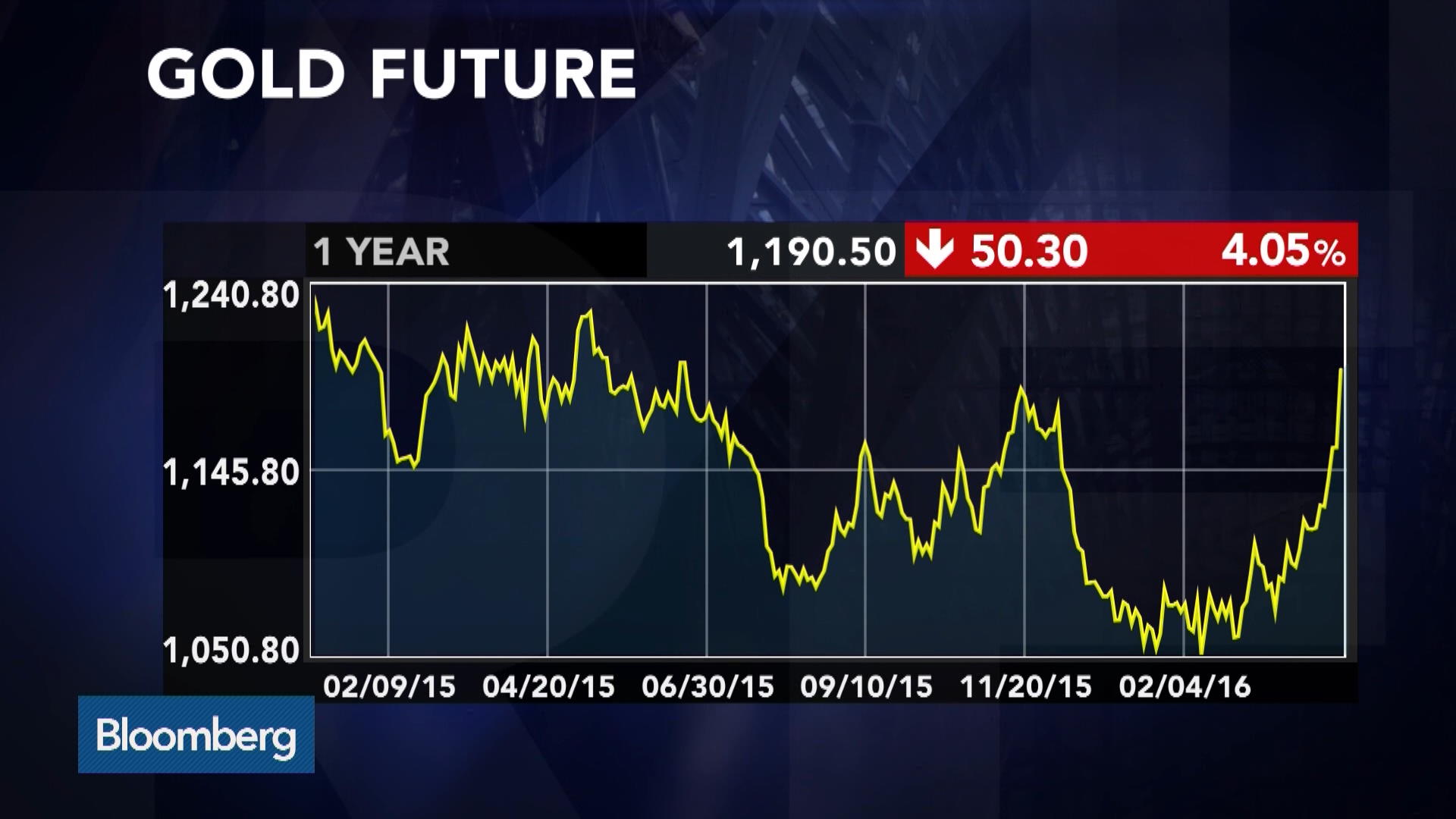 Gold just reached its highest price in seven months, and investors are betting there are more gains to come by April.
Eight of the 10 most-traded gold options in New York on Monday were bets on further price gains as the metal topped $1,200 an ounce for the first time since June. More than $2.6 billion was poured into exchange-traded funds tracking precious metals this year, and bullion assets held through ETFs are at the highest since July.

Investors are returning to gold after shunning the metal for three straight years. A stagnating global economy is threatening U.S. expansion and casting doubts over whether Federal Reserve policy makers will raise interest rates anytime soon. That's sending the dollar lower and raising the allure of gold as both a store of value and a haven asset. A Bloomberg Intelligence index tracking bullion producers has jumped 20 percent this year.
"Traders feel like there's more weakness ahead for this economy, and gold is the place to be positioned," Fain Shaffer, the president of Infinity Trading Corp. in Indianapolis, said in a telephone interview. The gains for bullish options show that "we may be seeing a change in this market," he said.
Calls Jump
A call giving owners the right to buy April futures at $1,200 was the most-traded option on Monday, with more than 9,500 lots changing hands. The price of the contract more than doubled. The second-most traded option was a $1,250 April call, with more than 4,000 lots traded. The price of that contract also more than doubled.
Gold futures for April delivery jumped 3.5 percent to settle at $1,197.90 an ounce on the Comex in New York on Monday. The price reached as high as $1,201.40 and is up 13 percent this year.
The BI Global Gold Mining Competitive Peer Group, which tracks 45 companies, jumped 4.5 percent on Monday. Gains for the index in 2016 have been led by South Africa's Harmony Gold Mining Co., which has more than doubled. Newmont Mining Corp. has jumped 40 percent since the start of the year, the biggest gain among companies tracked by the Standard & Poor's 500 Index.

There are more signs pointing to a prolonged rally. The put-to-call ratio, or the number of bearish options trading compared with bullish ones, for SPDR Gold Shares is near the lowest since 2008, data compiled by Bloomberg show. The fund is the world's biggest ETF backed by gold.
Money managers increased their gold net-long position last week by 49 percent to 35,620 futures and options, according to Commodity Futures Trading Commission data released Friday. Just a month earlier, the speculators were net-short, or betting on declines.
The turnaround for investor sentiment comes as China's slowdown spurs turmoil for global financial markets. Almost $6.8 trillion has been erased from the value of world equity markets this year. Traders are placing the odds of a U.S. rate increase this year at just 30 percent, down from 85 percent a month ago. Bullion holdings in ETPs have climbed for 15 consecutive days, the longest run since September 2012, according to data compiled by Bloomberg.
Before it's here, it's on the Bloomberg Terminal.
LEARN MORE