business
Geithner Gets JPMorgan Credit Line to Invest With Warburg Pincus
By and
Warburg, management pledged $800 million for $12 billion fund

Credit lines can help executives meet such commitments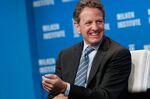 Former U.S. Treasury Secretary Timothy Geithner is preparing to borrow from JPMorgan Chase & Co. to help fund his new career in private equity.
Geithner, 54, secured a credit line with JPMorgan, one of the largest banks he oversaw during the financial crisis, to finance personal investments in funds started by his current employer, Warburg Pincus, according to a filing with the New York Department of State. He is borrowing money to invest in a $12 billion private equity fund that the firm raised in November, its first main fund since he joined almost two years ago, a person familiar with the situation said.

Top private-equity managers are often expected to pony up many millions of dollars for their new funds, to show investors that their interests are aligned. Having worked for the government for most of his career, including as president of the Federal Reserve Bank of New York, Geithner entered that high-stakes world with the earnings history of a government employee, albeit a high ranking one. By borrowing money, investors can also amplify -- or leverage -- the returns on their own capital.
"You are in a position to make 20 percent to 30 percent on your position in the fund," said Tom Bernhardt, a senior vice president at TorreyCove Capital Partners, a San Diego-based private-equity consultant. "Why wouldn't you buy in at Libor-plus to leverage that up," he said, referring to the London Interbank Offered Rate, a common benchmark for setting the interest on many types of loans.
The regulatory filing doesn't disclose the size of the loan or the financial terms, such as the interest rate. Warburg Pincus hasn't said how much Geithner agreed to commit to the new fund, and the filing doesn't say whether he made use of the credit line to finance it.
Mary Zimmerman, a spokeswoman for New York-based Warburg Pincus, declined to comment or make Geithner available. Officials for JPMorgan declined to comment.
Top Ranks
When raising a new fund, private-equity principals and their firms often commit their own money, in part to encourage outside investors to sign up. Such contributions amounted to a median 4.4 percent of the capital raised by funds last year, up from 2.5 percent in 2011, according to Preqin, a London-based data provider. Warburg Pincus and executives pledged $800 million to their twelfth fund, said the person familiar with the matter, or 6.7 percent of the $12 billion in total commitments that the firm had raised by November.
Warburg Pincus employed about 490 people at the end of 2014, but most of the money would typically come from mid- to high-level executives, including co-Chief Executive Officers Joseph Landy and Charles Kaye. As the president of Warburg Pincus, Geithner ranks just below Landy and Kaye on the firm's organizational chart.
The company oversees about $40 billion that is invested in venture capital and early stage growth-companies as well as traditional buyouts.
Warburg Pincus executives including Landy, David Krieger and Peter Kagan have arranged credit lines in the past that permit them to borrow against their existing stakes in the firm's funds and entities. Landy and Kagan both have credit lines with JPMorgan, while Krieger arranged the financing agreements with UBS Bank USA, a U.S. unit of Zurich-based UBS Group AG, according to separate filings made by the lenders with the state of New York.
'Least Wealthy'
Geithner and several junior staff members, according to the person familiar with the matter, borrowed money to help meet their personal commitments to the new fund, Warburg Pincus Private Equity XII, which completed fundraising in November. JPMorgan filed documents with New York state in December that showed it was providing Geithner with a credit line to invest in Warburg Pincus funds.
Once described by CNN Money as "one of the least wealthy Treasury chiefs in recent history," Geithner spent much of his life in public service, including stints at Treasury and the International Monetary Fund before taking the helm of the New York Fed in 2003.
Geithner had an estimated net worth of $3.2 million when he became Treasury secretary under President Barack Obama in 2009. His predecessor, former Goldman Sachs Group Inc. Chairman Henry Paulson, was worth about $292 million when he took the post in 2005, according to the Center for Responsive Politics in Washington, D.C.
'Dear Timmy'
While at the New York Fed, Geithner recruited a number of finance executives to join the board of directors of the reserve bank, arguing it needed to better reflect the composition of the financial system, according to his memoir "Stress Test: Reflections on Financial Crises." Among his recruits was Jamie Dimon, the CEO of JPMorgan, who served in that role from 2007 to 2012. The powers of the board do not extend to activities regarding supervision and regulation, according to the Fed bank's bylaws.
Later, as Treasury secretary, Geithner oversaw the repayment of bailout funds that the nation's banks received following the 2008 financial crisis. Dimon, whose bank had gotten $25 billion under the Troubled Asset Relief Program, called the program a "scarlet letter" and pushed for a quick repayment.
"Dear Timmy, we are happy to be able to pay back the $25 billion you lent us," Dimon said in June 2009 at a conference, reading from a mock letter to Geithner. "We hope you enjoyed the experience as much as we did."
In addition to JPMorgan and UBS, other large banks with private wealth units, as well as dedicated private wealth managers, all make loans backed by fund interests. The rates on such loans range between Libor plus 150 basis points to Libor plus 450 basis points, said Zachary Barnett, global head of fund finance in the Chicago office of law firm Mayer Brown.
"Many banks look at these loans as a gateway to get more of the fund's business," Barnett said. "A multibillion dollar fund is going to be working with the bank a lot. To establish relationships with the fund's principals is helpful."
Before it's here, it's on the Bloomberg Terminal.
LEARN MORE