Credit Market Risk Surges to Four-Year High Amid Global Selloff
by and
`Collective fear lurching from one reason to another'

Commodity rout, emerging-markets slowdown stoke debt concerns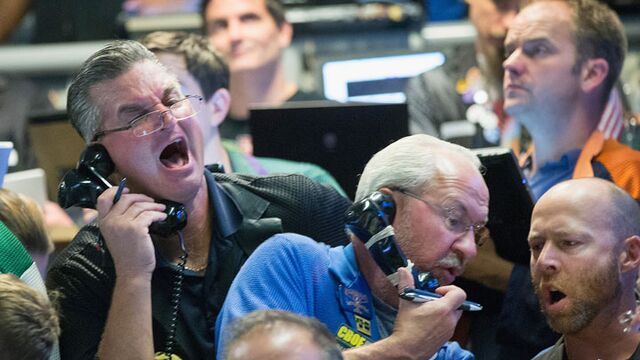 Credit markets are grappling with a global selloff that's sending the cost to protect against company defaults to the highest level in almost four years as investors become increasingly nervous that global growth is slowing.
In the U.S., the risk premium on the Markit CDX North America Investment Grade Index, a credit-default swaps benchmark tied to the debt of 125 investment-grade companies, jumped six basis points to about 120 basis points at 4:02 p.m. in New York, the highest since June 2012. A similar measure for borrowers in Europe jumped to the highest level since June 2013.
Signs of stress in financial markets are gathering steam. European stocks are down for a sixth day and the cost of protecting banks' and insurers' senior debt in that region has climbed to levels not seen since March 2013. Oil's plunge for a third day in New York to trade below $30 a barrel and the slowdown in emerging markets added to investors' concerns about the state of global economy.
"The market's collective fear is lurching from one reason to another," said Paul Suter, a London-based fixed-income trader at ECM Asset Management. "After China and oil, financials are now in the firing line. There is no hiding place."
Energy Rout
Exchange-traded funds that hold U.S. junk bonds slid to their lowest levels in almost seven years. BlackRock's iShares iBoxx High Yield Corporate Bond exchange-traded fund and SPDR Barclays High Yield Bond ETF both fell to the lowest levels since 2009.
Financials and energy were the two investment-grade sectors that added the most risk in the U.S., Markit CDX North American Indexes show. In high yield, energy, communications and health care fared the worst.
Chesapeake Energy Corp., the U.S. natural gas driller that's been cutting jobs and investor payouts to conserve dwindling cash flows, lost more than 25 percent of its stock market value Monday after a report that it hired a restructuring law firm. The company's bonds led losses among high-yield debt on Monday. Chesapeake's notes due March 2016 tumbled to a record to 84.5 cents, from 95 cents last week, while its bonds maturing in 2017 fell to an all-time low of 30 cents.
"Broad oil weakness has now turned into distressed energy cases, which investors view as possibilities of higher risk of restructuring or debt exchanges," Ben Emons, a money manager at Leader Capital Corporation. "Nothing has been announced of that matter but markets move quicker ahead of such possibility happening."
Europe Bonds
Banks and insurers in Europe led a surge in the cost of insuring corporate bonds to the highest levels since 2013.
The Markit iTraxx Europe Subordinated Financial index of credit-default swaps on the junior debt of 30 firms soared for an eighth day, rising 47 basis points to 312 basis points, the highest since March 2013, according to data compiled by Bloomberg. The senior benchmark jumped 18 basis points to 137 basis points, while a measure of U.S. corporate bond risk rose four basis points to 119 basis points, the highest since June 2012.

Restructuring charges, goodwill writedowns, lower trading revenues and impairments are suppressing bank earnings and undermining investor confidence, according to CreditSights analysts led by Puja Poojara.
"It's all snowballed on itself," said Jack Flaherty, who helps manage $127 billion at GAM Holdings AG. "There have been net redemptions across a lot of different funds. As long as volatility across asset classes is as high as this, people will step back."
Deutsche Bank
Deutsche Bank AG's debt was among the worst performing on Monday, according to data compiled by Bloomberg. Credit-default swaps on its senior debt soared as much as 32 basis points to 222 basis points and its subordinated swaps rose 56 basis points to 441 basis points, both the highest since 2011.
The German lender's riskiest debt securities, known as additional Tier 1 notes, fell below 70 cents. The bank has 4.6 billion euros ($5 billion) of the contingent convertible securities, which are designed to absorb losses through coupon cancellation and conversion into equity if a bank's losses mount. Industrywide, additional Tier 1, or AT1, notes have lost 6.2 percent this year, according to Bank of America Merrill Lynch bond indexes.
Investors are also concerned that central banks may have to rethink policies as the U.S. and U.K. economies succumb to signs of a worsening global slowdown.
"Putting on a trade at the moment would feel like standing in front of an oncoming freight train," said Juan Esteban Valencia, a credit strategist at Societe Generale SA in Paris. "There are too many issues to worry about, whether it's oil, China's slowdown, emerging markets or bank exposures to emerging markets and commodities."
Before it's here, it's on the Bloomberg Terminal.
LEARN MORE