Fed May Lack Legal Authority for Negative Rates: 2010 Memo
By
August 2010 memo highlights possible hurdles to negative rates

`Not at all clear' law allows Fed to charge negative rates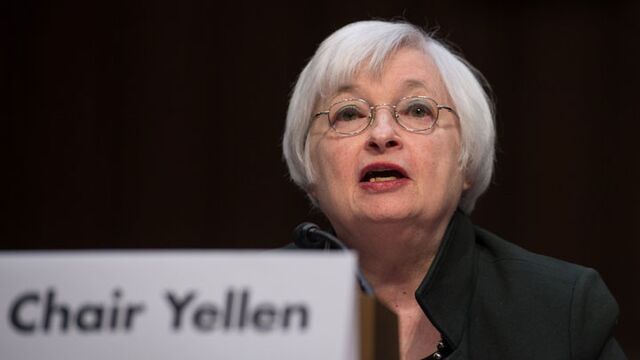 The Federal Reserve may not have the legal authority to set negative interest rates in the U.S., according to a 2010 staff memo that was posted late last month on the central bank's website.
The document, which is dated Aug. 5, 2010, and was publicly released on Jan. 29, suggests the law that authorized the Fed to pay interest on excess reserves, or IOER, may not grant it the authority to charge interest. That could constrain the central bank's ability to take interest rates below zero, though it might be able to find a work-around.
Speculation has increased that the Fed might consider negative rates in the next economic downturn as concerns of a U.S. slowdown have mounted. This also follows recent moves to cut borrowing costs below zero by central banks in Europe and Japan that show it can be done. The opinion of Fed staff back in 2010 was that this would be difficult under U.S. law.
"There are several potentially substantial legal and practical constraints to implementing a negative IOER rate regime, some of which would be binding at any IOER rate below zero, even a rate just slightly below zero," the authors wrote. "Most notably, it is not at all clear that the Federal Reserve Act permits negative IOER rates, and more staff analysis would be needed to establish the Federal Reserve's authority in this area."
The Fed did not immediately respond to a request for comment.
Market Rates
Market-set dollar borrowing costs have dipped below zero several times in recent years. Three-month bill rates touched a low of minus 0.05 percent on Oct. 2 after the Fed delayed rate liftoff in September amid financial-market turmoil.
The Financial Services Regulatory Relief Act of 2006 granted the Fed the ability to pay banks interest on reserve balances deposited at the central bank. The IOER rate has been instrumental in the Fed's effort to lift rates, which it did in December for the first time since 2006.
According to the Act, "balances maintained at a Federal Reserve bank by or on behalf of a depository institution may receive earnings to be paid by the Federal Reserve bank at least once each calendar quarter, at a rate or rates not to exceed the general level of short-term interest rates."
Releases Transcripts
The Fed released transcripts of its 2010 Federal Open Market Committee meetings last month, and staff memos for those meetings were subsequently published on the central bank's website.
If the Fed was not allowed to charge negative rates on IOER, it might still be able to drive U.S. borrowing costs below zero by turning to the rate on overnight reverse repurchase agreements, or RRPs, with money-market mutual funds, said Joseph Abate, a money-market strategist at Barclays Plc in New York.
The central bank has been using overnight RRPs since Sept. 2013 to put a floor under interest rates, and currently pays 0.25 percent interest on borrowings through its overnight RRP facility. Offering to borrow cash from those funds while charging interest to accept the money could in theory give banks bargaining power to charge their customers to hold deposits as well.
"It would be sloppy and unpredictable, but yes, you could do it," Abate said.