business
Deutsche Bank Is 'Absolutely Rock-Solid,' Cryan Tells Employees
By and
Bank is able to meet obligations on additional Tier 1 notes

Cryan tells employees the bank has `strong' capital position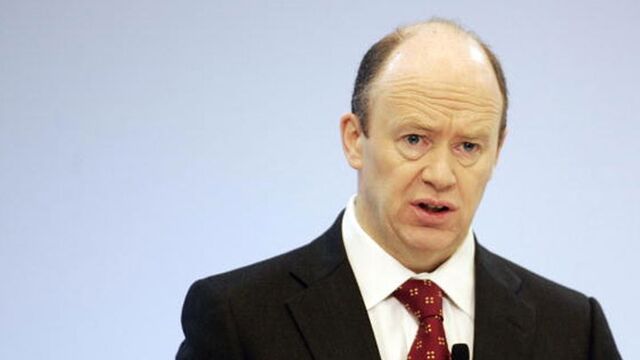 Deutsche Bank AG co-Chief Executive Officer John Cryan told employees that Germany's largest bank is "rock solid" as investor concern about capital and funds drove down the value of its stock and bonds.
In a memo on Tuesday, Cryan wrote that the Frankfurt-based lender has a "strong" capital and risk position and "took advantage of this strength to reassure the market of our capacity and commitment to pay coupons to investors" who hold the bank's additional Tier 1 capital. The comments come just hours after Chief Financial Officer Marcus Schenck told staff that the bank is able to meet obligations on the notes both this year and next.

Cryan, 55, has been seeking to boost capital buffers and profitability by cutting costs and eliminating thousands of jobs as volatile markets undermine revenue and outstanding regulatory probes raise the specter of fresh capital measures to help cover continued legal charges. The cost of protecting Deutsche Bank's debt against default has more than doubled this year, while the shares have dropped about 42 percent.
"Cryan will do everything in his powers to try and avoid" a capital increase, Christopher Wheeler, an analyst at Atlantic Equities, said in an interview with Bloomberg Television on Tuesday. "It's really a matter quite frankly of how much more litigation they have to deal with and whether or not they can actually start to generate some core earnings at their investment bank."
The shares dropped 5 percent to 13.14 euros at 4:58 p.m. in Frankfurt, to the lowest since 1992, after declining as much as 12 percent on Monday. The cost to protect against losses on the bank's riskiest debt reached the highest level since the height Europe's debt crisis in 2011, according to data compiled by Bloomberg.

Deutsche Bank and European rivals including Credit Suisse Group AG and Barclays Plc are getting walloped by a global market rout just as they embark on ambitious overhauls of their securities units. The selloff is complicating that task by reducing revenue from investment banking and making parts of the business more expensive to exit, hampering efforts to ultimately plow more earnings into capital.
'Bad Year'
January marked the worst start to a year for underwriting bonds in Western Europe since 2008, while high-yield bond fees slumped 78 percent from last year, data compiled by Freeman & Co. show. Stock sales in Europe, the Middle East and Africa dropped 60 percent so far this year, data compiled by Bloomberg show.
"It's going to be a really bad year," said Lutz Roehmeyer, who helps manage about 11 billion euros ($12 billion) at LBB Invest in Berlin, which holds shares of lenders including Deutsche Bank. European banks "can essentially scrap any goals they had set themselves for this year."
Deutsche Bank said in a statement on Monday that it has room to pay about 1 billion euros in 2016, enough to cover about 350 million euros in additional Tier 1 coupons due in April. The estimated payment capacity for 2017 is about 4.3 billion euros, boosted in part by proceeds from the announced sale of a stake in Huaxia Bank Co., the lender said. The 2017 estimate is before any effect from 2016 profit or losses.
Responding to concerns about a deepening market rout, German Finance Minister Wolfgang Schaeuble told Bloomberg TV in Paris that he's not worried about Deutsche Bank.
Market Selloff
The German lender's reassurances did little to reverse a selloff in credit markets. The cost of protecting Deutsche Bank's subordinated debt rose for an eighth day. Credit-default swaps increased one basis point to 440 basis points, the highest level since November 2011, according to data compiled by Bloomberg based on London closing prices.
The bank's $1.5 billion of 7.5 percent notes fell 2 cents on the dollar to a record 73 cents, according to data compiled by Bloomberg. Short interest in Deutsche Bank climbed to almost 2 percent of shares outstanding from about 0.5 percent in mid-January, according to data compiled by Markit Ltd.

Deutsche Bank's statement came after Simon Adamson, an analyst at CreditSights Inc., signaled concern about the bank's ability to pay coupons in 2017 if operating results disappoint or litigation costs are higher than expected.
'Pretty Unrealistic'
"There are plenty of reasons to be critical about Deutsche Bank, but the idea of them missing a coupon payment was pretty unrealistic," Michael Huenseler, who helps manage about 17 billion euros including the bank's bonds at Assenagon Asset Management, said by phone from Munich. "They're in a very uncomfortable place with the stock hitting lows and it's looking like we're in the financial crisis, but the situation is very different."
Since becoming co-CEO last year, Cryan has pledged to boost profitability by shrinking parts of the firm's debt-trading business and by selling Deutsche Postbank AG, a German consumer lender. His efforts have been hampered by rising costs tied to past misconduct, with Deutsche Bank racking up more expenses for litigation and fines since the start of 2008 than any other financial firm on the Continent.
Deutsche Bank's common equity Tier 1 ratio, a measure of financial strength, fell to 11.1 percent at the end of 2015 from 11.5 percent at the end of September.
'Worst Timing'
While the lender will "almost certainly have to add" to legal provisions this year, "it's already accounted for in our financial plan," Cryan said his message to employees. The management board wants to "make transparent where we are in our strategic efforts," by updating staff "on a number of topics" over the coming weeks, he said.
"Their overhaul is necessary, but its timing, along with litigation they face, is really the worst you could possibly imagine," said Tomasz Grzelak, a Zurich-based analyst at Mainfirst Bank AG with a neutral rating on the stock. "Investors are worried about a capital increase. They have a good buffer now but we still face the costs of litigation and restructuring."
While his predecessor, Anshu Jain, tapped investors in 2013 and 2014 to help fund growth, Cryan said in January that he doesn't see a need to raise capital.
Credit Suisse, also under pressure to strengthen its balance sheet, tapped investors for 6 billion Swiss francs ($6.1 billion) to bolster capital last year, while Britain's Standard Chartered Plc raised about $5.1 billion.
In the U.S., lenders including Bank of America Corp. and Morgan Stanley took steps in 2011 to reassure investors amid market volatility tied to the European sovereign-debt crisis. Bank of America announced a $5 billion investment from Warren Buffett to shore up capital in August of that year, while Mitsubishi UFJ Financial Group Inc. issued a statement in October reiterating its alliance with Morgan Stanley.
European banks "were much slower in rebuilding their capital structure, they're much slower in dealing with bad loans and they still have significant litigation risks," said Charles Peabody, analyst at Portales Partners in New York on Bloomberg TV. "Time is the big issue now for these banks to get back on their feet."
— With assistance by Edward Robinson, Tom Keene, John Glover, Sarah Jones, Caroline Connan, Shelley Smith, Michael J Moore, Donal Griffin, Cecile Vannucci, and Francine Lacqua
(
Updates with comment from Schaeuble in 10th paragraph.
)
Before it's here, it's on the Bloomberg Terminal.
LEARN MORE