Chesapeake CEO Got Record Option Grant Last Month Before Plunge
by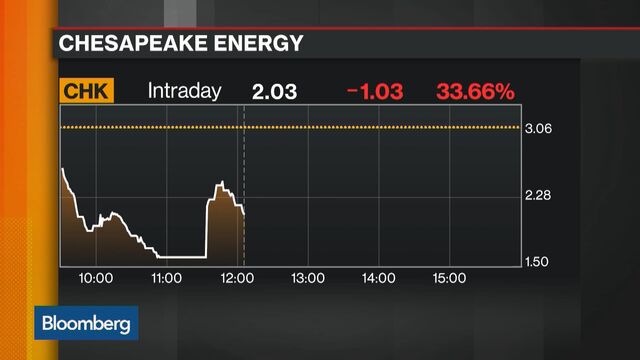 Chesapeake Energy Corp., the natural gas driller that plunged Monday amid concern that its financial options are narrowing, awarded Chief Executive Officer Doug Lawler the biggest stock option award of his tenure last month.

Lawler received 1 million options with a $3.71 strike price that will vest over three years, according to a Jan. 14 filing from Oklahoma City-based Chesapeake. That's about double the number of options he received a year ago, when the stock stood at $18.37. On Monday, the company's shares slid to $2 at 1:51 p.m. in New York.
Plummeting stock prices have presented boards at exploration and production companies with a dilemma. Increasing equity awards to make up for large drops could agitate shareholders. Leaving things alone might discourage executives. Shares of Chesapeake have fallen about 90 percent since Lawler took over as CEO in 2013, which has left his prior option awards under water. His latest award is now under water too.
Chesapeake dismissed speculation Monday it's facing a liquidity crisis after Debtwire reported that the company had brought on restructuring attorneys from Kirkland & Ellis LLP to help sort out its balance sheet. The law firm has helped counsel the company since 2010 and continues to advise on its recent debt exchange, Chesapeake said in the statement. After the statement's release, the stock pared losses that had reached a record 51 percent earlier in the day.
Before it's here, it's on the Bloomberg Terminal.
LEARN MORE