Anglo Platinum Sees Supply Cliff as Mines Investment Dries Up
by
About half of ounces mined in South Africa seen at risk

Anglo says it will idle shafts when they become loss-making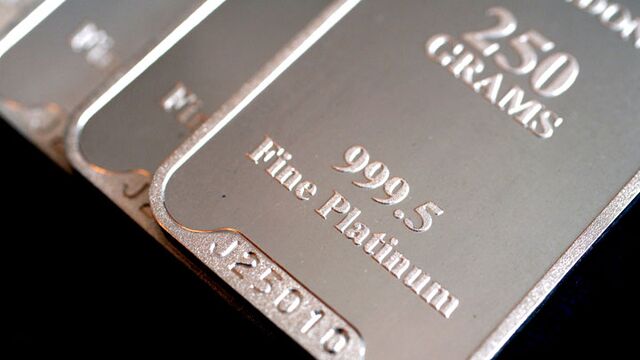 Anglo American Platinum Ltd. said production of the metal will fall sharply as low prices cripple the ability of some of the world's largest producers to replace depleting mines.
While output from South Africa, where more than 70 percent of the world's platinum is mined, will remain largely unchanged for the next four to five years, the lack of investment in operations "will see big reductions" in production thereafter, Chris Griffith, the chief executive officer of the world's largest producer of the metal, said in an interview in Cape Town on Monday.
"This current environment where half the industry is loss-making, clearly that is not sustainable for a prolonged time," Griffith said. "There is much less investment in the primary sector."
Griffith's warning comes as platinum prices have almost halved since the start of 2011, weighing on the margins of the largest producers such as Johannesburg-based Amplats, Impala Platinum Holdings Ltd. and Lonmin Plc. In response, operators have closed some mines, reduced spending and cut thousands of jobs while selling shares to refinance weak balance sheets.
At Risk
About half of the current 4 million ounces of platinum mined annually in South Africa are at risk, Paul Dunne, the chief executive officer of Northam Platinum Ltd., said in an interview in Johannesburg.
The Anglo American unit has cut 350,000 ounces since 2012 from unprofitable operations, Griffith said. All its current mines, with the exception of some capital-intensive new projects, are making profit even when Amplats spends money to replace mined-up ore, Griffith said. The company expects to produce between 2.3 million ounces and 2.4 million ounces in the current financial year, it said.
Amplats will idle any of its operations whenever they become loss-making, Griffith said.
"We've cut unprofitable production, that's all we actually need to do," he said. "Perhaps some of our peers have not been as diligent. If you don't cut unprofitable ounces in this environment, then shareholders are not going to keep bailing you out."
Before it's here, it's on the Bloomberg Terminal.
LEARN MORE