Anglo Platinum Sees More Price Pain as It Halts New Projects
by
World's largest platinum miner delays capital decisions

Impairments of 14 billion rand represents 30% of book value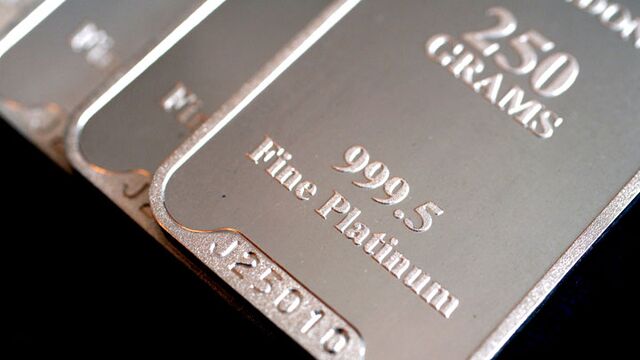 Anglo American Platinum Ltd. said it will place all expansion projects on hold as it expects prices to remain depressed after the world's largest producer of the metal wrote down mines and operations by 14 billion rand ($878 million). The shares advanced.
Amplats, as the company is known, will delay decisions on whether to proceed with capital projects until 2017 due to low metal prices, it said in a statement Monday. One such project, the Twickenham operation, will be placed on care and maintenance which may affect 1,000 jobs. Platinum, used to curb harmful car emissions and for jewelry, has almost halved since the start of 2011.

Amplats, which is controlled by Anglo American Plc, and other major producers such as Impala Platinum Holdings Ltd. and Lonmin Plc are staving off the plunge in prices by selling or closing mines, reining in expenditure and reducing thousands of jobs. The cutbacks are weighing on growth in South Africa, the source of more than 70 percent of the world's platinum, in a country where more than one in four is unemployed.
"The fact that they're putting some of those operations on care and maintenance is the right thing to do," Rene Hochreiter, an analyst at Noah Capital Markets (Pty) Ltd., said by phone. "It's been undervalued for a while and is probably readjusting at the moment."
Shares Climb
Amplats rose 11 percent to 300 rand per share by the close in Johannesburg, the highest since Sept. 16.
"Clearly the market is not looking for an extra project at this point in time," Chief Executive Officer Christopher Griffith told reporters on a conference call. "We'll re-evaluate that decision in 2017."
Amplats's impairments of 14 billion rand represent about 30 percent of the company's book value, it said.
Headline earnings, which exclude one-time items, were 107 million rand for the year through December, down from 786 million rand in 2014, Amplats said.
Amplats is continuing with the process of disposing of its Union mine, which employs about 6,000. If the asset doesn't generate cash and a sale doesn't progress in the first half, then the company will consider alternative options, including plans to place Union on care and maintenance, it said.
The producer expects to produce between 2.3 million ounces and 2.4 million ounces of platinum concentrate in the current financial year, in line with 2015, it said.
"The platinum market is expected to move closer to balance in the short term before primary supply is constrained in future years by closures and reduced capital expenditure," Amplats said.
Before it's here, it's on the Bloomberg Terminal.
LEARN MORE