UN Readies Sanctions on North Korea as Missile Defense Discussed
by
Security Council members pledge "significant" new curbs

North Korea claimed to have tested a hydrogen bomb last month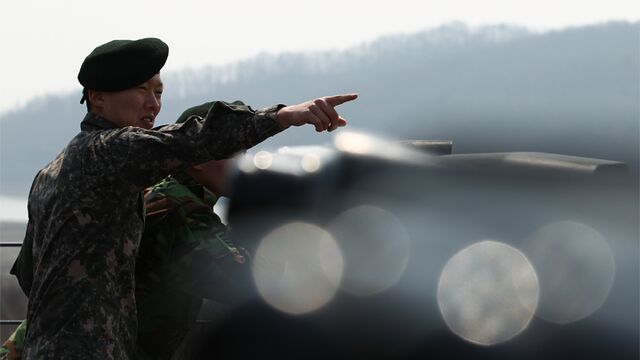 North Korea's launch of a long-range rocket prompted the U.S. and South Korea to announce talks on the possible deployment of a missile defense system, a move bound to rile China, as the United Nations Security Council vowed to quickly adopt a resolution with significant new sanctions.
A new resolution may be readied in the next few days, Venezuela's UN Ambassador Rafael Ramirez, the council president for February, told reporters -- although Russia's ambassador Vitaly Churkin suggested some disagreements persist. "We are not there yet," he said.
Sunday's launch, which came a month after North Korea defied the international community by holding its fourth nuclear test, underscores the limited impact that U.S. pressure and a decade of UN sanctions have had on curbing Pyongyang's nuclear ambitions. The Obama administration's push for tougher punishment from the UN has run into resistance from China, which sees the Lockheed Martin Corp.-manufactured Thaad missile-defense system that the U.S. and South Korea are discussing as a threat that could be used against its own missiles.
"What is at stake here after outrageous provocation, is the future of the proliferation regime that we patiently built together over the last decades," Francois Delattre, France's ambassador to the UN, said at an emergency security council meeting Sunday. "That's why weakness is simply not an option."
The Security Council needs to develop tough sanctions that exceed the expectations of North Korean leader Kim Jong-un, U.S. Ambassador Samantha Power said. "There can be no business as usual," she said.
Thaad Talks


In a joint statement, the U.S. and South Korea said that if Thaad were deployed, it would only be used to target North Korea. It may be hard to convince the Chinese that Thaad isn't a threat, said John Nilsson-Wright, head of the Asia Programme at Chatham House.
"Opening the door to such deployments will worry Beijing that this is a pretext for further increasing missile defense capabilities in order to increase the vulnerability of China's own missile capabilities," he said.
China is "deeply concerned" about the talks on Thaad, Foreign Ministry spokeswoman Hua Chunying said in a statement. "Moving ahead with the deployment of anti-missile systems in the region will further raise tensions on the Korean Peninsula. It will not help maintain regional peace and stability, nor will it lead to a proper settlement of the current situation. We urge relevant parties to deal with this issue with care and caution."
The U.S. and China have been trying to agree on new sanctions since North Korea conducted a nuclear test on Jan. 6. China had been pushing for more dialog rather than new sanctions, diplomats said.
The U.S. has said that China, which provides an economic lifeline to its former Cold War ally through food and energy supplies, is key to bringing North Korea to heel. Still, Beijing has repeatedly rejected tough sanctions like banning oil exports for fear of destabilizing the North and triggering a flood of refugees across the countries' shared border.
Secretary of State John Kerry failed last month to secure China's support for tougher sanctions when he met his Chinese counterpart Foreign Minister Wang Yi in Beijing.
North Korea insists its rocket firings are for peaceful scientific purposes, while the U.S. views them as tests of ballistic missile technology that could eventually be used to carry nuclear weapons to U.S. shores. The U.S. has said that it won't accept North Korea as a nuclear power, while Pyongyang insists that its nuclear program is the best deterrent against a U.S. invasion.
'Fascinating Vapor'
"The fascinating vapor of Juche satellite trailing in the clear and blue sky in spring of February" is a gift from the nation's scientists to Kim, the party and the people, the official Korean Central News Agency said Sunday in announcing the launch.
North Korea is developing a missile called Taepodong-2 with a range of 10,000 kilometers (about 6,200 miles), according to South Korea's Defense Ministry. That would leave the West Coast of the U.S. within the missile's range. Questions remain as to whether North Korea has the technical capability to miniaturize a nuclear warhead and to ensure its missiles could endure the stress of space flight and hit intended targets precisely.
"Every time North Korea launches a space rocket -- even unsuccessful attempts -- it advances its knowledge and capabilities," said Greg Thielmann, a senior fellow at the Washington-based Arms Control Association. "But it is important to understand a large, stationary, liquid-fueled rocket does not make a very good weapon, because it provides ample warning it is being readied."
Before it's here, it's on the Bloomberg Terminal.
LEARN MORE