U.K. `Brexit' Campaigners Fail to Unite Behind a Common Strategy
by and
Lawmaker Douglas Carswell says he wants positive campaign

UKIP Leader Nigel Farage says border control is central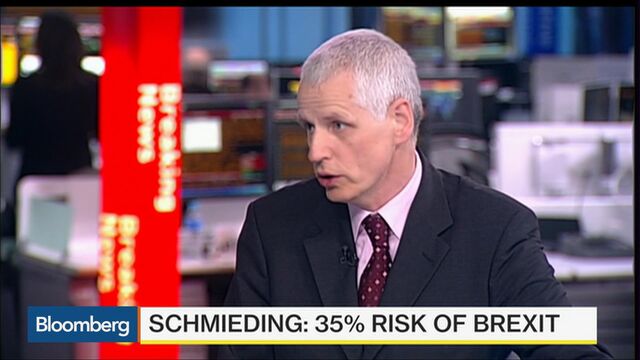 Rival campaigners for the U.K. to leave the European Union are struggling to agree on how they can rally the British public and win a vote that could come as soon as June.
Divisions among 'Brexit' proponents are widening, leaving them with neither an agreed spokesman nor a clear message. The different groups are vying to be designated the official campaign, giving them access to more funding and the right to make television advertisements and send a government-funded mailing to every home. U.K. Independence Party leader Nigel Farage has shifted his backing to Grassroots Out, while the party's only House of Commons lawmaker, Douglas Carswell, supports the Vote Leave group.
Differences among the groups center on the role immigration should play in communications. Prime Minister David Cameron -- who will campaign for the U.K. to stay in a reformed EU -- hopes to win approval for his renegotiations with the bloc at a Feb. 18-19 summit in Brussels, paving the way for a referendum as early as June 23.
"There is a difference of approach and strategy," Carswell said in an interview with Sky News on Sunday. "It's not just about immigration. Vote Leave wants a campaign that is optimistic, upbeat, internationalist, a campaign that focuses on the economy."
Rejecting Collaboration
Border control and an Australian-style points system for migrants are key issues, Farage told the Sunday Telegraph in an interview. He criticized Vote Leave's Dominic Cummings and Matthew Elliott for rejecting collaboration, telling the newspaper that the group, which is backed by Conservative lawmakers, is "frankly just too Tory" and a cross-party alliance would be more effective.
Leave.EU Co-Chairman Arron Banks, who is also funding Grassroots Out, said on Friday that he was suing unspecified people in Vote Leave. That came after the Guardian published an e-mail from the deputy chairman of Vote Leave asking Cummings to stop insulting people on his own team.
QuickTake Will Britain Leave the EU?
"Campaigns matter less than everyone thinks, but they do matter," said Philip Cowley, co-author of "The British General Election of 2015." "If the leave campaigns are devoting their time to this, it's time they're not spending targeting voters. And it must be making it harder for them to recruit significant figures to their side."
Stronger In, the unified campaign to keep the U.K. in the EU, has chosen Stuart Rose, the former chief executive of Marks & Spencer Plc, as its chairman.
Unless a clear spokesman emerges, the job may fall by default to Farage. Other "Leave" supporters fear his anti-immigration rhetoric will alienate undecided voters.
"Nigel Farage was always going to be a very important figure in the campaign but he appeals to a particular section of the population," John Mills, deputy chairman of Vote Leave, told reporters on Thursday. "He doesn't appeal to everybody. What I think would be better for one-to-one debate would be to have someone who's a more inclusive figure."
Before it's here, it's on the Bloomberg Terminal.
LEARN MORE