Pressing the Flesh
Trump Revels in Retail Politics Days Before New Hampshire Votes
The Republican front-runner hit the diner circuit in the Granite State over the weekend.
By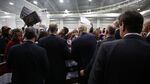 Donald Trump lumbered into a Manchester diner on Sunday morning and while he ordered eggs and bacon, it was clear that what he was really hungry for was votes.
Polls suggest that the Republican presidential front-runner maintains a dominant lead against his rivals in New Hampshire ahead of Tuesday's primary. But the numbers also suggest that the race remains incredibly fluid, with just 45 percent of likely Republican voters having made up their mind, according to a CNN/WMUR poll released on Sunday.
That's why his campaign aides are eager to put Trump in local diners and police stations in a state where smaller-scale, more informal events traditionally matter most to voters. "He does realize the importance of retail politics," said Trump's son Donald Jr., 38, who campaigned on his father's behalf at another diner Sunday morning.
Trump faced criticism following his second-place showing behind Senator Ted Cruz of Texas in last week's Iowa caucuses. Polls heading into that race also had him leading his rivals and some suggested that the billionaire's preference for large-scale rallies instead of more one-on-one settings cost him dearly. 
Trump, however, is in no way cutting back on national interviews or large-scale rallies. He appeared on three Sunday morning talk shows and packed more than a thousand people into a Plymouth State University gymnasium later in the afternoon. On Monday, his campaign has four events planned. 
While Trump swapped out Adele's "Rolling in the Deep" with the Beatles' "Revolution" (a nod to the 52nd anniversary of the British band's American debut on the Ed Sullivan Show, which coincides with Tuesday's primary) as he took the stage, he stuck with his own greatest hits afterwards. He attacked President Barack Obama's trade deals; slammed "incompetent politicians"; and blasted the Republican National Committee for not giving his supporters enough tickets to Saturday night's debate (which he said he won).
He also strongly urged his supporters to get to the polls. "If you're not going to vote for Trump, don't vote," he said.
In the back of the gymnasium, retired Navy veteran Becky Dunn watched the billionaire businessman who transformed into a reality show star and then a top-tier presidential candidate. "I wish I got to see him a little bit closer," said Dunn, "but I guess it doesn't matter because I've supported him since the day he announced. He doesn't owe anyone anything. He says what he thinks. He stands up for what he believes. I like to think I'm like that, too."
Dunn said she submitted her early voting form last week because she's battling stage four cancer and has chemotherapy scheduled on Tuesday, the day of the primary. "Not even cancer was going to stop me from voting Trump," she said.
Dunn wasn't able to meet Trump, but at Chez Vachon, the Manchester diner where he campaigned on Sunday morning, Trump went for the personal connection. He trudged through the dining room, a local staple where photographs of presidential candidates past and present hang on the walls.
The morning breakfast crowd appeared unfazed at how rare it was for Trump to appear in such a setting.
"We know how they do this," said Jan Jones, of Manchester, who was having breakfast with her husband and two friends when Trump and his entourage arrived.
Connie Lafond, an undecided voter from Hooksett, applauded Trump for taking the time to stop in and meet voters at a diner stop in Manchester. "It's very important. The more people that a candidate can touch base with—it's one thing to see him on TV, but it's another to see him in person," Lanford said.
Lafond said that seeing him person allowed her to catch a glimpse of "the reality of what he's going through" with the entourage of security personnel, aides and reporters. "His hair isn't anywhere near as bad as it looks on TV," she added.
Dave LeClair, of Weare, stopped at the diner with his two boys and his wife before taking off on a work trip. LeClair, another undecided voter, said that seeing Trump at the diner "absolutely helps" the candidate's chances to win his vote. "It's more personal this way," LeClair said. "You don't get that vibe from him when he's speaking at the rallies. He's more friendly in person than on TV."
Jones, who said she's voting for Trump on Tuesday, joined her husband and their two friends who sat at their table awkwardly staring at Trump and his aides. Trump, who also ordered sausage links to go with his eggs and bacon, also seemed to enjoy a mug filled with hot chocolate that was topped of with whipped cream.
"I haven't had it in a while," Trump told reporters. He dipped his spoon into the whipped cream and licked a spoonful. Jones watched with delight.
"You know what my favorite thing about him?" she said, "He doesn't sugar-coat anything."
Before it's here, it's on the Bloomberg Terminal.
LEARN MORE