Snow Set to Make New Hampshire's Last Campaigning Day Slick
by
Storms will bring snow across U.S. Mid-Atlantic, Northeast

New York's accumulation could reach 6 inches by Thursday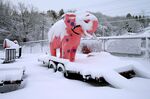 Storms bearing down on the eastern U.S. will make Monday's last full day of campaigning in the New Hampshire presidential primary slick and icy, while leaving snow from Washington to New York and Boston.
Southern New Hampshire could see 4 to 6 inches (10 to 15 centimeters) of snow through Monday, said James Brown, a National Weather Service meteorologist in Gray, Maine. Boston could receive as much as 10 inches during the day from the same storm, with New York getting as much as 6 inches from two storms by midweek, the weather service said.
Washington is forecast to get as much as 2 inches.
Voting day in New Hampshire will probably have fairer weather, possibly just with some snow showers.
"This is all Monday morning and Monday evening," Brown said. "Tuesday there is not a lot going on at that point."
This will be Boston's second round of snow since Friday, when another system brought a heavy wet blanket that snapped branches and caused power outages.
Two people, including a 6-year-old girl, were killed in Canton, Massachusetts, by falling branches, according to WBZ-TV, Boston's CBS affiliate.
A winter storm warning covers stretches from eastern Long Island to southeastern New Hampshire, including Boston and Providence, Rhode Island. A blizzard warning has been issued for southern Massachusetts, Cape Cod, as well as the islands of Martha's Vineyard and Nantucket. Environment Canada has issued a similar warning for Nova Scotia.
Warnings for hurricane-force winds have been issued in Atlantic states from Virginia to South Carolina, with waves reaching from 12 to 24 feet, according to the weather service. Airlines pre-emptively canceled almost 190 flights in the U.S. on Monday, according to data tracker FlightAware.
As the low pressure builds in the Atlantic, sending snow into New England, a second wave will come across the Ohio Valley into the Mid-Atlantic states.
This will bring about 2 inches to Washington and possibly 4 to Philadelphia, said David Roth, a meteorologist with the U.S. Weather Prediction Center in College Park, Maryland. The areas west and north of the large cities are forecast to get more.
New York is at the edge of both systems, making predictions difficult, Roth said. Snow will start falling there overnight and could continue through Thursday, according to the weather service said.
"There is great amount of uncertainty," Roth said. "Nothing would be a surprise at this point."
While the East Coast gets socked with its storms, heavy snow was falling across the central U.S. A blizzard warning stretched from North Dakota to Iowa.
Roth said the areas around the Great Lakes could also see some heavy snow through the first part of the week. Buffalo and Cleveland will have snow through Thursday.
Before it's here, it's on the Bloomberg Terminal.
LEARN MORE