Venezuela Oil Diplomacy Reaches Saudi, But Deal Seen as Unlikely
by and
Naimi, Del Pino discuss producers' rffort to stabilize market

Analysts say Saudi Arabia unlikely to agree tp cuts for now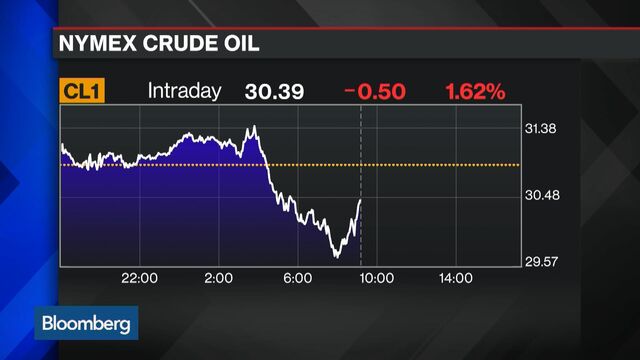 Saudi Arabian Oil Minister Ali al-Naimi said he held "successful" talks on Sunday with his Venezuelan counterpart in Riyadh, the latest stop in a diplomatic push by the Latin American crude producer to rally support for coordinated output cuts.
The two met on Sunday in Riyadh to discuss Eulogio Del Pino's talks last week with other crude producers including Russia, Qatar and Iran. Venezuela wants a meeting between OPEC and non-OPEC countries aimed at a global agreement to restore balance to an oversupplied market.
"I'm very happy to meet and consult with my colleague Venezuelan Oil Minister Eulogio Del Pino," al-Naimi said in the statement after the meeting. "It was a successful meeting in a positive atmosphere."
While Saudi Arabia has said it's open to cooperation between OPEC and non-OPEC nations, analysts said the world's largest exporter was unlikely to agree to such a deal at a time when Iran and other global producers are themselves raising production. They also want to ensure that U.S. shale production won't replace cuts made elsewhere.
"They are buying time while we wait for the solid proof that U.S. production is slowing," Ole Hansen, head of commodity strategy at Saxo Bank in Copenhagen, said by e-mail.
Oil has tumbled as the Organization of Petroleum Exporting Countries, which supplies about 40 percent of the world's oil, keeps the taps open to defend market share and make it harder for higher-cost producers, like those in the U.S. or at deep offshore deposits, to compete. That puts pressure on states like Venezuela, less economically resilient to lower prices than Saudi Arabia and its allies in the Gulf.
Del Pino met his counterparts from Russia, Qatar, Oman and Iran last week to drum up support for Venezuela's attempt to buttress oil prices. Six OPEC member states and two non-members would be open to attending an extraordinary meeting if one is called, Venezuela's oil ministry said after Del Pino held talks in Iran Wednesday. Iraq, Algeria, Nigeria and Ecuador would join OPEC's Iran and Venezuela and non-members Russia and Oman if talks are scheduled, according to the statement.
Al-Naimi declined to comment further on the meeting when asked by reporters at a conference in Riyadh Sunday.
Benchmark Brent crude fell 35 percent in 2015 and a further 10 percent this year. The April contract dropped 1.9 percent to $33.42 a barrel at 12:17 p.m. in London.
"As the Gulf OPEC members want to maximize profits in the very long-term, it doesn't make sense to cut their production," said Eugen Weinberg, head of commodities research at Commerzbank AG in Frankfurt. "They preferred to let prices fall and make their competitors suffer."
Before it's here, it's on the Bloomberg Terminal.
LEARN MORE