Russia Courts Foreign Banks as Funding Crunch Overtakes Politics
by and
Goldman, Citigroup among 20 foreign underwriters approached

Allianz says Russia needs to tap Eurobond market this year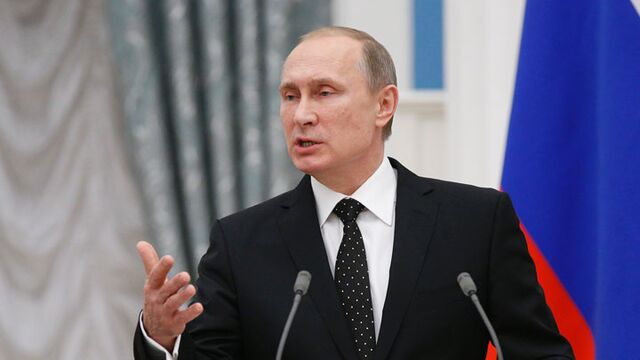 Pressure is mounting on Russia to break the vow of abstinence on selling Eurobonds it has maintained since the U.S. and Europe slapped sanctions on some of its biggest companies.
In the three weeks since the finance ministry last said there's no point to go abroad for cash while penalties are still in place, the ruble tumbled to a record amid an oil plunge and rising yields at home made borrowing targets more elusive. The government said on Friday it invited banks from nine countries to submit proposals to broker its return to foreign capital markets, its first mandate since last issuing international bonds in September 2013.

"Russia probably needs to access international markets to raise funds to plug
its deficit this year," Greg Saichin, the chief investment officer for emerging-market fixed-income at Allianz Global Investors Europe GmbH, said by e-mail Friday. "The problem is sanctions. They are still on, but we presume that they may fall away completely at best or eased at worst."
For now, a funding crunch and the widest budget shortfall in five years may loom larger for Russia as politics fade into the background. A sovereign wealth fund used to finance the gap is dwindling after the price of crude, the nation's biggest export earner, fell to less than $30 a barrel for the first time since 2003 last month. Meanwhile, inflation pressures have driven up yields on local government debt, causing auctions to fall below the weekly average to attain quarterly targets.
'In Vain'
Finance Minister Anton Siluanov sent requests for proposals to 20 foreign banks, including the Bank of China, Goldman Sachs Group Inc., Citigroup Inc. and Barclays Plc, as well as three local lenders, Sberbank PJSC, VTB Group and Gazprombank JSC, according to a statement Feb. 5.
Less than a month earlier, his deputy Sergey Storchak dismissed the idea of a foreign sale. "The restrictions are still in place -- so what's the point? Why toil in vain?" he told reporters Jan. 18.
Russia may also be contacting its U.S. and European underwriters to gauge how well the relationships have withstood tensions with their governments, said Anton Tabakh, the chief economist at Moscow-based ratings company RusRatings.
"This isn't a serious attempt," Tabakh said by phone Monday. "The Finance Ministry wants to show that they're keeping busy and also to check which banks are keen to work with Russia despite the sanctions regime."
Issuance Slump
The last time Russia tapped international debt markets was in September 2013 to raise $6.8 billion, six months before President Vladimir Putin's annexation of Crimea triggered sanctions from the U.S. and European Union that virtually closed the Eurobond market to Russian borrowers.
While Russia itself isn't prohibited by sanctions from sovereign fundraising, the penalties combined with the collapse of oil prices are stoking the nation's borrowing costs. Companies sold just $4 billion of Eurobonds in 2015, down from the 2013 record when they raised $42 billion of foreign debt sales.
The yield premium investors demand to hold Russian 2023 dollar bonds over Treasuries is 314 basis points, compared with about 190 basis points at the time of the 2013 sale. The government's four-part offering then included $3 billion of 10-year bonds that yielded 5.112 percent. The securities yielded 4.66 percent at 4:51 p.m. in Moscow on Monday.
There are signs that relations between Russia and its former Cold War foes may normalize. U.S. Secretary of State John Kerry used Davos, Switzerland, as a high-profile platform to raise the prospect that the U.S. may consider lifting sanctions later this year, while German Finance Minister Wolfgang Schaeuble said Europe should forge closer ties with Russia to help resolve the civil war in Syria.
"If Russia believes the easing of sanctions is realistic, it might be better to
sell after," said Michael Ganske, who oversees $4.5 billion of debt and currencies as head of emerging markets at Rogge Global Partners in London. "If they will be lifted, even gradually, this will be clearly positive for Russian asset prices."
Before it's here, it's on the Bloomberg Terminal.
LEARN MORE