Merkel Back in Turkey as Syria Push Triggers More Refugees
by
German chancellor to hold talks with Erdogan, Davutoglu

Turkey still to take action against `illegal migration'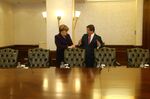 Chancellor Angela Merkel returns her focus to Turkey this week as a fresh offensive in neighboring Syria spurs another wave of refugees that threatens to force her to back down and close German borders.
With domestic pressure building for Merkel to follow other European Union countries and turn asylum seekers away, the chancellor traveled to Ankara Monday to urge the Turkish government to make good on pledges to do more to halt the flow of refugees bound for Europe.
"The most important issue is that we implement the migration agenda with Turkey," Peter Altmaier, Merkel's chief of staff, said in an interview with Germany's ARD television Sunday. "We expect Turkey to take action against illegal migration" across the Aegean to Greece. "In return, we have to help Turkey to handle its own refugee situation better."
Merkel looks increasingly isolated as intensified fighting in Syria prompts ever more civilians to flee and most of her fellow EU leaders refuse to share the refugee burden. With everything pointing to an upsurge in the numbers seeking asylum in Europe, the net is tightening around the chancellor as her efforts to mitigate the influx are undermined by factors outside her control.
Merkel is due to hold talks with Turkish President Recep Tayyip Erdogan and Prime Minister Ahmet Davutoglu after coordinating her position with French President Francois Hollande Sunday on the challenges posed to Europe by the refugee crisis and the situation in Syria. She travels to Turkey for the second time in four months, and less than three weeks after she and Davutoglu agreed that illegal migration presented a regional threat that must be addressed with "the utmost urgency."
Helping Turkey
Since then, a Russian-backed offensive by Syrian government troops loyal to President Bashar Al-Assad has driven throngs of people out of Aleppo, a rebel stronghold, adding to the numbers en route to Europe after more than 1 million arrived last year. EU officials said Saturday that they have little leverage over Turkey, even after releasing 3 billion euros ($3.4 billion) in aid to help the government house, feed and find jobs for people fleeing from Syria.
"The world has been blind and insensitive on this issue," Turkish Deputy Prime Minister Numan Kurtulmus told CNN-Turk on Sunday, saying his country has hosted Syrian refugees since April 2011. The number is now approaching 2.7 million, with another 300,000 migrants from Iraq and elsewhere, he said, adding that Turkey has spent more than $8 billion helping them so far.
"We don't need anyone's financial assistance," Kurtulmus said. "When we're talking about the migrant issue, Turkey doesn't need money, doesn't need to bargain over money and doesn't have that on its agenda."
As its side of the bargain, the EU should agree on quotas of migrants to share the burden of sheltering refugees with Turkey, Merkel said in her weekly podcast on Saturday.
German Mood
The chancellor's insistence that international crisis diplomacy takes time and that she's defending free travel and commerce within Europe clashes with the reality of declining poll ratings for herself and her party ahead of elections in three German states on March 13.
Merkel's approval rating slid this month to the lowest since August 2011 as 81 percent of respondents said her government had lost control of the refugee crisis, according to an Infratest Dimap poll published Wednesday. Only 38 percent of those polled said her government is doing a good job, compared with 51 percent in January.
In a further sign of Germany's growing isolation, the Nordic countries moved closer to considering a common regional border to coordinate their efforts to contain the influx of migrants from the south.
The refugee crisis will occupy EU leaders at their next summit in Brussels on Feb. 18-19, when "very tough discussions" lie ahead on Germany's demand for Greece and Italy to step up processing and repatriation of refugees before they head to northern Europe, said Altmaier. "We're not there yet," he said.
Before it's here, it's on the Bloomberg Terminal.
LEARN MORE