Loire 2015 Vintage Shaped by Dry Spring, Warm Growing Season
by
Vineyard harvesting started earlier than usual in September

Climatic conditions were `very favorable' for winemakers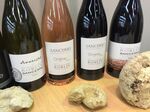 Loire wines from the 2015 vintage look set to have benefited from an unusually dry spring and warm growing season, which permitted early harvesting in a region where grapes do not always fully ripen.
Wines from the sauvignon blanc whites of Sancerre to the deep reds of Chinon and botrytized sweet wines of Coteaux du Layon would all get a boost from the favorable conditions, according to growers interviewed at the Salon des Vins de Loire fair in Angers in the past week.
The Loire can trace its wine-growing history back more than 1,500 years and has benefited in the past century from the proximity of the Paris market, but its exports are now facing increasing competition, notably from New Zealand sauvignon blanc and South African chenin blanc. A hot vintage can help boost both quality and inventory levels.
"Climatic conditions were very favorable," Jean Michel Monnier, a wine consultant who teaches at the University of Angers, said in a presentation at the fair. "Spring was relatively dry. July was extremely dry. Harvest conditions were good."
Yannick Amirault, who has been making wine in Bourgueil and the neighboring appellation of Saint Nicolas de Bourgueil for almost four decades, said the unusually warm, dry weather would result in a "good vintage."

Bourgueil is noted for its cabernet franc red wines, which like those of nearby Chinon, have the potential to age for several years.
Rainfall in the Anjou-Saumur region throughout March to July was below the average of the previous 10 years, according to Monnier. While that favored development of vines overall, growers said some vineyards started to develop stress from lack of water, which heavier-than-normal rain in August helped alleviate.
Temperatures in Anjou-Saumur were 0.95 degrees Celsius (1.7 degrees Fahrenheit) above normal for most of the six-month period from March to August, with the exception of May, which was in line with the average, according to data cited by Monnier.
"We harvested early in 2015 to keep the freshness of the wine," Matthias Roblin of Domaine Roblin in Sancerre, said at the wine fair. He said too much heat could be detrimental to Sancerre, which is known for its crispness and minerality.

While vine development started later in April than in most recent years, harvesting took place earlier, and was under way during the second week of September in many parts of the Loire.
Sancerre has achieved widespread commercial success in the U.K. and U.S. in the $10- to $20-a-bottle range. Many Loire wines sell for between 6 euros ($6.70) and 8 euros at vineyards, putting them in a price category below most wines targeted by investors and collectors.
More expensive exceptions to that include botrytized sweet wines from Coteaux du Layon, some of which can age for up to 50 years, as well as some long-lasting cabernet franc reds from Chinon and Bourgueil and dry and demi-sec chenin blanc whites from Vouvray.
Before it's here, it's on the Bloomberg Terminal.
LEARN MORE