Colombia's Unconquered, Empty Half Can Be Developed, Santos Says
by
Remote regions can grow at 8-9% if conflict ends, Santos says

No discussion with Kerry about rebel commander jailed in U.S.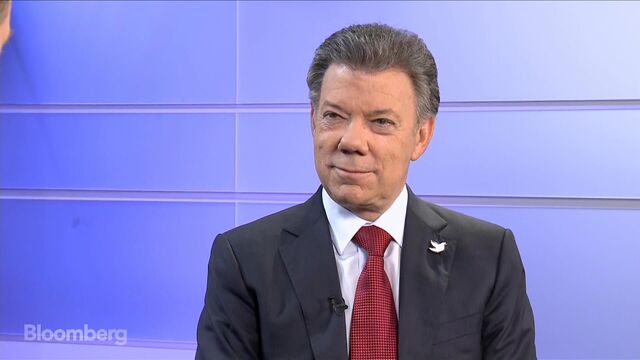 Remote, sparsely-populated regions of Colombia will see "spectacular growth" when they become open for development following a peace deal with Marxist rebels, Colombian President Juan Manuel Santos said.
"Half of our country is unconquered, unoccupied; there's nothing there," Santos said Friday in an interview with Bloomberg TV. "These are productive lands. There's a lot of interest from private companies and we are establishing private-public initiatives to develop this half of the country."
A peace deal would boost economic growth by 1.5-to-2 percentage points per year, with remote regions growing as fast as 9 percent, he said. Santos has set a March deadline for talks with the guerrillas of the Revolutionary Armed Forces of Colombia, or FARC, to wrap up.
Most of Colombia's 49 million inhabitants live in the Andes mountains and on the Caribbean and Pacific coasts. The vast plains and rain forests east of the Andes, which make up about half of the national territory, are very thinly inhabited. Vichada province, a territory about the size of Kentucky that borders Venezuela, has a population of 72,000.
The rebels have deterred investment in remote regions of the country by targeting oil infrastructure and wealthy landowners, and sometimes imposing their own taxes on economic activity. The guerrillas have been fighting the government since 1964, seeking a Cuban-style revolution in Colombia.
The FARC are demanding the repatriation of a guerrilla commander known by his alias Simon Trinidad, in jail in the U.S. for involvement in kidnapping U.S. citizens, saying this would help the peace process. Santos said he didn't discuss this when he met Secretary of State John Kerry on Friday. It is premature to talk about removing the FARC from the U.S. government's list of terrorist groups before a peace agreement has been signed, he added.
Colombia can finance programs associated with the peace deal without breaching its "fiscal rule" or balanced budget act, Santos said.
Before it's here, it's on the Bloomberg Terminal.
LEARN MORE