Photographer: Akos Stiller/Bloomberg
Volkswagen's Two-Front Fight: U.S. Regulators and German Unions
by
VW brand chief under fire for plan to boost productivity

Labor leaders doubt goals can be met without job losses
As Volkswagen AG brawls with U.S. regulators over its cheating on emissions tests, the automaker faces a different fight back home: Labor leaders are questioning cost-saving measures that could free up cash as the company faces what will likely be billions of dollars in fines.
For the past two years, the automaker has sought to boost efficiency at the Volkswagen brand, where profit margins lag those of most competitors and other VW divisions. Though union chief Bernd Osterloh supports the 2014 savings push, last month he criticized a sweeping overhaul of operations laid out by Herbert Diess, a veteran of BMW AG who took over as brand chief last July.

The "restructuring efforts are heating up friction between VW brand management and the works council," said Arndt Ellinghorst, an analyst at Evercore ISI in London.
The tension will probably increase as collective bargaining talks start this spring. Labor union IG Metall is asking for a wage increase between 4.5 percent and 5 percent, even though inflation is near zero. Those negotiations set the bar for VW, which starts its talks on April 26. Last year, Germany's largest union sought 5.5 percent before settling for 3.4 percent, a deal VW sweetened with an extra pension contribution. With Volkswagen facing hundreds of lawsuits and fines of as much as $46 billion (though the actual number will likely be a fraction of that), it will be harder for VW to be as generous this time around.

Diess has said he aims to boost efficiency at the VW brand by 10 percent, signaling deeper cutbacks than envisioned in the revamp approved two years ago. Volkswagen had already pledged to more than double the unit's profit margin to at least 6 percent by 2017 via measures such as reining in development spending, making greater use of common parts across models and brands, and winnowing the number of model variants.
Job Cuts?
Osterloh has said that the boost in productivity -- measured by dividing average output by costs -- is unrealistic and could open the door to job cuts. Diess has indicated the target can be achieved without cutting permanent staff, though the company says some of its thousands of temporary employees could lose their jobs. Osterloh has expressed doubts as to whether the goal can be met without bigger workforce reductions, and has cautioned that management must consult with workers before making any big strategic decisions.
"I expect new people at the VW brand, in particular, to have respect for what is being achieved here," Osterloh said in an interview last month on a union website.
Key to Diess's plan is hiving off the VW nameplate, which has long been fully integrated with the operations of the 12-brand group at corporate headquarters in Wolfsburg, a company town a two-hour drive west of Berlin. Diess is revamping the brand's reporting structure to give managers responsibility for individual model lines from development to production. He plans to cut the number of decisions that require approval from the board by almost half, which backers of the plan say will go a long way toward making the company more efficient.
Diess must act quickly as demand in VW's largest market, China, is slowing and its sales in the U.S, Brazil, Russia and even at home in Germany are in decline. The difficulties came into stark relief Friday, when VW said it will delay publication of its 2015 earnings report because it needs more time to fully assess the financial fallout from the diesel cheating scandal.
In the third quarter, the VW brand's margin was 3 percent, less than half that of its upscale sibling Audi and also below that of mass-market competitors such as Peugeot SA. A reorganization would enable the brand to revitalize revenue by more quickly reacting to shifts in customer demand, managers say.
Today's dispute echoes a conflict in 2006, when Osterloh faced off with Wolfgang Bernhard, a Daimler AG veteran tasked with overseeing an earlier overhaul of the struggling VW brand. Bernhard sought to spin off VW's huge components manufacturing unit, which would have involved thousands of job cuts. The ensuing clash with Osterloh triggered Bernhard's departure and cost then-CEO Bernd Pischetsrieder his job as well. The unit was never spun off, and Diess has pledged he won't touch it.
State Stake
Osterloh has never had more clout, with new management barely settled in after the departure of discredited former CEO Martin Winterkorn, who resigned in September as the scandal widened. Still, the labor leader has said he largely agrees that VW must become more efficient. He invited Diess to explain his goals in more detail to workers in Wolfsburg on March 8. And he probably won't escalate the conflict unless he thinks full-time jobs are in immediate peril.
Given the emissions scandal, "we expect the company to even accelerate previously announced reforms," Yasmina Serghini, a senior credit officer with Moody's Corp., wrote in an e-mail.
Diess will still need Osterloh's support. While unions have a strong voice at most German companies, and typically control half the seats on the supervisory board, at VW their power is amplified by the fact that the state of Lower Saxony is the second-largest shareholder. The state's 20 percent stake gives it two seats on the board and far-reaching veto rights, and politicians back Osterloh's labor contingent in blocking cuts to VW's core workforce.
With its ownership stake, the state "isn't just interested in profits," state governor Stephan Weil said in an interview last month. "Our concern is about jobs and the long-term strength of the regional economy."
Watch Next: The Long Rise and Rapid Fall of Volkswagen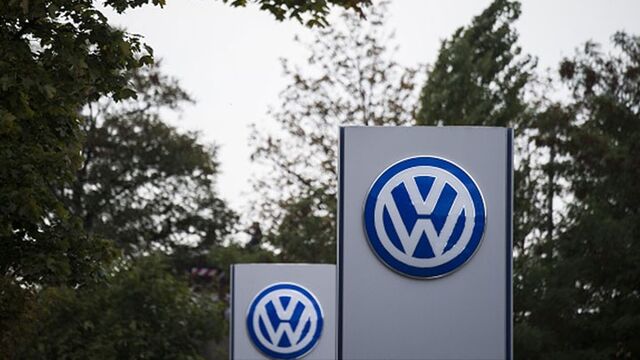 Before it's here, it's on the Bloomberg Terminal.
LEARN MORE