U.K. Poll Shows `Out' Campaign Leads by 9 Points After Tusk Deal
by
YouGov poll shows 19 percent of voters still undecided

Cameron visits Warsaw, Copenhagen seeking support for deal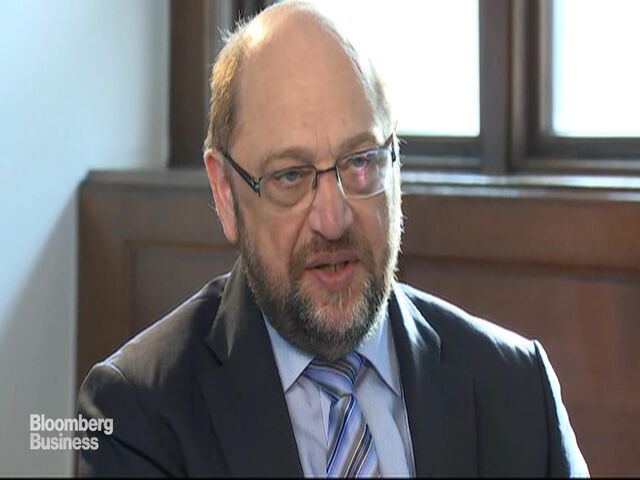 The campaign to take Britain out of the European Union led by 9 percentage points in one survey after voters had their first chance to assess the changes Prime Minister David Cameron aims to secure in the functioning of the 28-nation bloc.
QuickTake Will Britain Leave the EU?
Forty-five percent of respondents were in favor of leaving the EU and 36 percent wanted to remain inside, with 19 percent undecided, YouGov Plc said on its website. YouGov polled 1,675 potential voters online on Feb. 3 and 4.
The shift toward "Leave" may reflect two days of headlines attacking the draft deal that Cameron brought back from Brussels on Tuesday. Like every other poll on the issue, this one shows a group of people still undecided that is large enough to decide the issue one way or the other. With EU membership an issue that falls low in most voters' lists of priorities, many people simply haven't yet engaged with the question.
"Apparently a moment to remember Twyman's Law: a poll or statistic that is unusual or interesting is almost invariably wrong," Andrew Cooper, founder of rival pollster Populus, said on Twitter.
Cameron visits Poland and Denmark Friday as he seeks to drum up support for the Tusk proposal, which would limit welfare for Europeans who move to the U.K. and shield the City of London from regulators in Frankfurt. The draft plan needs to be endorsed by 27 other national leaders who meet for a summit in Brussels on Feb. 18 and 19.
Drilling Down
The poll found 46 percent of voters saying Cameron's renegotiation was a bad deal, against 22 percent who said it was a good and 32 percent who said they didn't know. Breaking voters down, the pollsters identified 24 percent who would definitely vote to stay in the EU, and 28 percent who would definitely vote to leave. Each side then had a "soft" vote of 18 percent of people, who said they might change their minds.
When people were asked how they would vote if the deal were agreed, the gap narrowed, with 41 percent saying they would vote to Leave, and 38 percent saying they would vote to stay. The number of undecideds was unchanged at 19 percent.
The two latest phone polls showed a very different picture of the state of the campaign, with those like Cameron who want to stay in the EU leading by at least 18 percentage points. Online polling has shown small leads for both sides.
Another pollster, ComRes, conducted a comparative study of the two techniques in December and concluded that telephone polling does a better job of reaching less committed voters who can be crucial in swaying the final result.
Before it's here, it's on the Bloomberg Terminal.
LEARN MORE