Takata Posts Quarterly Profit Gain as Air-Bag Recalls Mount
Ma Jie and Masatsugu Horie
Quarterly net income climbs on higher sales in U.S. and Asia

Automakers including Honda continue to expand air-bag recalls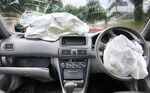 Takata Corp., the air-bag supplier at the center of a global consumer safety crisis, reported quarterly profit rose from a year earlier, as it seeks to convince automakers including Honda Motor Co. to continue to support it through expanding recalls.
Net income climbed to 8.1 billion yen ($69 million) in the quarter through December from 2.8 billion yen a year earlier, on the back of higher sales in the U.S. and Asia, Takata said Friday. Revenue for the quarter climbed to 184.1 billion yen from 167.9 billion yen.
The results come as Honda, its largest customer, said it will recall another 5.7 million vehicles globally to fix faulty air bags that have been linked to 11 deaths and prompted more than 20 million recalls in the U.S. alone. The safety devices have been found in some cases to explode with too much force, rupturing and shooting metal and plastic parts at vehicle occupants.
Takata recorded 10.5 billion yen in recall-related costs in the nine months through December, the company said. It may recall driver-side air bags in cars made after 2014 depending on investigation results. Current recalls are on vehicles produced up to 2014.
Shares of Takata dropped 3.9 percent to 495 yen at the close in Tokyo, before it announced earnings. The shares have plunged 64 percent in the past year.
Carmakers have set aside higher provisions for Takata-related recall costs in the current fiscal year. Fuji Heavy Industries Ltd., the maker of the Subaru brand, added 12 billion yen in the quarter, while Mazda Motor Corp. said provisions have amounted to 11 billion yen in the three quarters through December. Honda said about 2.2 percent of revenue this fiscal year has been reserved for quality-related expenses, up from 1.9 percent in earlier years.
Takata is preparing to present a restructuring plan to automakers in early May that will include an agreement on the sharing of recall costs, people familiar with the matter said this week. The company will also rely on a third-party panel to help formulate the plan, one of the people said.
Chief Executive Officer Shigehisa Takada is said to be prepared to resign in order to placate stakeholders unhappy with the way the air-bag supplier is handling the crisis involving its defective products. A review panel appointed by the Tokyo-based supplier said Tuesday the company must make quality a part of its culture to avoid future safety defects.
In November, Takata was fined a record $200 million over its missteps in handling the air-bag crisis. The National Highway Traffic Safety Administration found that Takata had been slow to report the defect and hid critical information from regulators and its automaker partners. Takata agreed to appoint an independent monitor to oversee its recalls and operate under the terms of a five-year consent decree.
Before it's here, it's on the Bloomberg Terminal.
LEARN MORE