Six Rescued From Collapsed Building After Taiwan Quake, TV Says
Adela Lin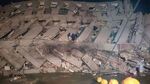 Six people were rescued from a collapsed building after a 6.4-magnitude quake struck the southern Taiwanese city of Tainan, Taipei-based NEXT TV reported.
Rescuers were searching for more survivors in the damaged building that accommodated about 200 residents, the television station said. It was unclear how many people were in the building when the temblor struck, it said.
More than 10 buildings collapsed in the city, according to the broadcast.
The Tainan government received a report at 4:03 a.m. of a collapsed building at Yong Da Road in the Yong Kang district, according to the city government's website.
The earthquake struck at 3:57 a.m. local time, with the epicenter in Kaohsiung city at a depth of 16.7 kilometers (10.4 miles), according to the Central Weather Bureau website.