Poles `Satisfied' With U.K. EU Plan After Cameron Warsaw Talks
by , , and
Kaczynski says Poland got welfare guarantees, security backing

Poll published Friday showed `Out' camp ahead by 9 points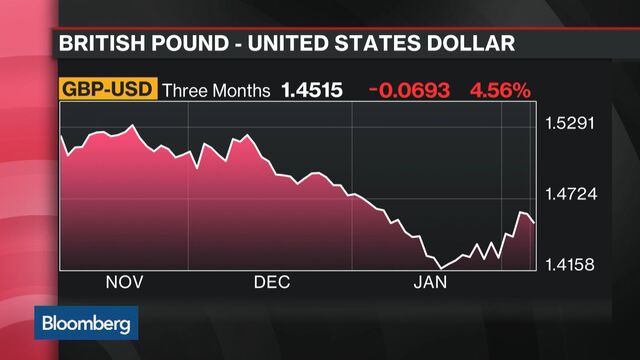 Prime Minister David Cameron overcame a key obstacle in his bid to seal a new deal on Britain's membership of the European Union as the leader of Poland's ruling party declared himself "satisfied" with a plan to be put to a summit of the bloc this month.
Jaroslaw Kaczynski, who heads the Law & Justice party, said after meeting Cameron in Warsaw Friday that the interests of Poles already living in the U.K. are secured in the proposal announced this week, which would let Britain cut welfare benefits for new migrants. The U.K. will also help boost Poland's security in NATO and help the Polish government with "absurd" discussions in the EU about the erosion of democracy in Poland, Kaczynski said.

"We had a very good discussion; I am very satisfied," Kaczynski told reporters after the 45-minute talks. which followed a meeting between Cameron and Polish Prime Minister Beata Szydlo. "Poland and Poles gained a lot -- full guarantees for everyone now in Britain, and also that those who have children in Poland will continue to receive benefits."
Cameron is stepping up a diplomatic drive to win approval for a deal at the Feb. 18-19 summit of EU leaders in Brussels. That would let him hold a referendum on staying in the EU as early as June 23. An online poll published late Thursday showed a nine percentage-point lead for his domestic opponents aiming to take the U.K. out of the 28-nation bloc -- a so-called Brexit -- though nearly a fifth of respondents were undecided. Less frequent telephone polling has shown double-digit leads for staying in the EU.
Speaking in Copenhagen Friday afternoon after talks with Danish Prime Minister Lars Lokke Rasmussen, Cameron said he had "very good meetings" in Poland. "I'm confident that will help us to build a strong deal in February, but of course I've said I'll take all the time that I need to get the deal right for people in Britain," he told a joint news conference. "There's still important detail to be nailed down."
Poles make up the biggest share of EU migrant workers in the U.K., so the agreement of the country's government is key to a plan that hinges on letting Britain suspend the payment of in-work welfare benefits to new arrivals. The Law & Justice party leader suggested that Cameron had offered support in other areas to overcome any hostility on the migration plan.
'Full Understanding'
"We discussed issues important for Poland, such as NATO's eastern flank," Kaczynski said. "We also exchanged a few words about the unbelievable attacks on Poland and absurd debates over whether democracy is endangered here, and gained full understanding."
Since ousting a pro-EU government in October elections, Law & Justice has raised alarm by increasing its influence over the constitutional tribunal and the public media as well as bolstering its surveillance powers. The European Commission started an inquiry last month into whether Poland was backsliding on its democratic commitments, and Standard & Poor's handed the sovereign its first ratings downgrade, citing concern over the independence of the country's institutions.
By aligning itself with Britain, Poland -- the biggest beneficiary of the EU budget -- is betting that the Brexit debate will create more room for EU countries to pursue their own policies without interference from Brussels. 
'Strategic Partnership'
"I want to make a success of the vital NATO summit here in June and work to strengthen the eastern flank of the alliance," Cameron told reporters in Warsaw before meeting Szydlo, standing beside the Polish premier in front of U.K., Polish and EU flags. "We want to see full strategic partnership between Britain and Poland."
The U.K. leader has been aiming to win round east European opposition by arguing that the benefit curbs may stem the exodus of highly qualified workers from ex-communist countries such as Poland and Bulgaria, according to three officials familiar with the talks who asked not to be identified because the deliberations are private.
After two days of British newspaper headlines attacking Cameron's deal with the EU, 45 percent of respondents to a YouGov Plc survey were in favor of leaving the EU and 36 percent wanted to remain inside, with 19 percent undecided, the pollster said on its website. YouGov polled 1,675 potential voters online on Feb. 3 and Feb. 4.
'Real' Threat
"It remains to be seen whether this is the start of a new trend or a knee-jerk reaction to disappointment with the deal," Allan Monks, an analyst at JPMorgan Chase in London, wrote in a note to clients. "At this stage the risk of a vote to leave appears real."
When people were asked how they would vote if Cameron's deal were ratified, the gap narrowed, with 41 percent saying they would vote to leave and 38 percent saying they would vote to stay. The number of undecideds was unchanged.
Meanwhile, the president of the European Parliament, Martin Schulz, expressed concerns that the draft plan gives the U.K. an effective veto over some EU matters. The EU legislature "needs to see its concerns addressed early on to avoid a serious roadblock later on when legislation will need to be debated and adopted," he said in a speech in London.
In Copenhagen, though, the Danish premier was more supportive. "There is something in this package for everybody," he told reporters. "You will find Denmark being a very supportive country in the negotiations."
U.K. Culture Secretary John Whittingdale indicated he might back a Brexit, breaking ranks with several cabinet colleagues who've signaled support in recent weeks for staying in. He said in an interview with The House magazine that he'd been "highly critical" of the workings of the EU. Asked if he ruled out campaigning to leave, he replied: "I wouldn't."
Before it's here, it's on the Bloomberg Terminal.
LEARN MORE