Opposition Calls for Probe as Pakistan Air Protests Intensify
by
Senate leader Mandviwalla calls for judicial investigation

Bill clearing privatization awaits approval from Senate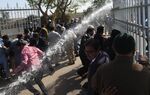 Pakistan's judiciary must investigate losses at the national carrier and the deaths of two employees who were protesting Prime Minister Nawaz Sharif's plan to privatize the airline, a prominent opposition leader said on Friday.
Saleem Mandviwalla, chairman of the Senate's Standing Committee on Finance and Revenue and a former finance minister, called for a Feb. 9 meeting to discuss the government's plan to sell a 26 percent stake in Pakistan International Airlines Corp. Members of the privatization panel, PIA representatives and Finance Ministry officials were also summoned.
"Government advisers have failed to present a revival plan for PIA," Mandviwalla's office said in a statement on Friday. "Instead, their complete focus is on privatization. The government is killing the PIA employees to achieve its financial benefits."
The stake sale is key to meeting conditions for a $6.6 billion International Monetary Fund loan Sharif took in 2013 to avert a payments crisis. However protests against the sale took a deadly turn this week when two PIA employees were killed during street protests in Karachi. Union leaders said they were shot dead by the paramilitary, while spokesmen for the troops and police said they didn't fire any shots.
PIA shares have risen 13 percent since Jan. 21, when the lower house of parliament passed a bill clearing the way for privatization. However it still needs approval from the opposition-dominated Senate.
If the Senate doesn't take up the bill in about 90 days, the government has the option to call a joint sitting of both houses and force passage, Privatization Minister Mohammad Zubair said in an interview on Wednesday. The government expects to seek bids by around May 15, he said.
The IMF on Friday sought calm and said it hasn't imposed any deadlines for the stake sale.
Before it's here, it's on the Bloomberg Terminal.
LEARN MORE