NATO Tells Putin Syria Bombing Is Hindering West's Peace Effort
by
Shift in `strategic balance' in region, Stoltenberg says

Turkey said as many as 70,000 Syrians are fleeing Aleppo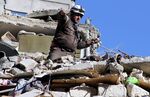 Russia's bombing of Syria is hampering the West's efforts to bring an end to the five-year civil war that's sent hundreds of thousands of refugees to Europe and aided the advance of Islamic State, NATO Secretary General Jens Stoltenberg said.
"Intense Russian air strikes, mainly targeting opposition groups in Syria, are undermining the efforts to find a political solution to the conflict," Stoltenberg told reporters in Amsterdam on Friday. He called for Russia to start a "calm de-escalation" of its actions.

The remarks came a day after Turkish Prime Minister Ahmet Davutoglu said as many as 70,000 Syrians are on their way to Turkey from northern Aleppo. Russia's air power has helped the military forces of Syrian President Bashar al-Assad move to within 3 kilometers (2 miles) of the city, according to the U.K. based Syrian Observatory for Human Rights.
The North Atlantic Treaty Organization chief, in the Netherlands for a meeting with European Union defense ministers, said Russia's actions were "causing increased tensions and violations of Turkish airspace." On Thursday, the Russian Defense Ministry said it has "reasonable grounds" to suspect Turkey of "intensive preparations" for sending troops into Syria.

The U.S. is leading a coalition to fight Islamic State, which has seized a swath of territory in Syria and neighboring Iraq. The group has claimed responsibility for attacks in Paris and Beirut in November, and the downing of a Russian passenger plane over Egypt in October. The United Nations suspended on Wednesday its long-awaited peace conference in Geneva just days after it began, as opposition groups called for international pressure to halt the al-Assad advance.
The surge in refugees from the war-torn nation to Europe has heaped pressure on governments from Athens to Stockholm and has tested Angela Merkel's leadership of Germany, a country that saw more than a million asylum seekers last year.
"Everyone needs to be aware -- this applies particularly to the Assad regime and also to Russia -- that a worsening of the humanitarian situation further reduces the chances of success at the political talks" on Syria, Merkel told reporters in Berlin on Friday. "We have to move precisely in the opposite direction.'
Leaders gathered in London on Thursday to discuss aid to Syria, including funds to improve conditions in camps and convince refugees not to risk sea and land journeys to reach EU countries. In total, more than 1 million refugees from the Middle East and North Africa fled to Europe in 2015.
"The substantial Russian buildup in Syria and the eastern Mediterranean is also shifting the strategic balance in this part of the Mediterranean," Stoltenberg said.
Before it's here, it's on the Bloomberg Terminal.
LEARN MORE