Shark-Cage Diving Out, Austerity In for Global Mining Chiefs
by
Rio Tinto, Glencore scaling back involvement at Indaba event

GMP Securities scrapped its `Shakedown in Cape Town' party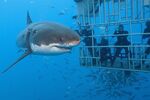 For two decades, Africa's biggest mining conference has brought thousands of the industry's top executives for deal-making, golfing and galas. This year, there's little to celebrate.
With many miners battling to stay afloat, fewer are willing to shell out 1,140 pounds ($1,641) for the Investing in African Mining Indaba conference in South Africa and business-class airfare. Attendance is expected to be 6,000, about 15 percent less than the record in 2013.
Canadian brokerage GMP Securities Ltd.'s annual Mining Jamboree, which offered activities including shark-cage diving, golfing and wine tasting along with industry meetings, was canceled after the commodities collapse forced spending cuts.
Even though the mood is more sober, the event next week is still among the most influential in mining and will feature speeches by executives including Anglo American Plc Chief Executive Officer Mark Cutifani. One item likely to be on the agenda: deals. The $1.4 trillion collapse in mining stocks since 2011 is poised to reshape the industry as companies struggle with billions of debt and years of sliding commodity prices.
"Some of the larger corporations are going to send fewer delegates," Jonathan Moore, managing director of the conference, said by phone. For mining companies with "not a lot of money to put to work towards events, this is probably the one that you're going to make sure stays on the calendar."
"The deal-making that takes place here makes this a unique event," he said.
Companies like Rio Tinto Group, Glencore Plc and BHP Billiton Ltd. have scaled back their involvement in the Indaba conference from previous years as the industry aggressively tries to rein in costs. All three companies have seen their value cut in half over the past year as China's deepening economic slowdown sent metal prices tumbling.
With balance sheets under strain, most of the biggest mining companies have said in recent months they're looking to sell assets. The value of completed transactions across mining and steel fell to about $54 billion last year, from $98 billion the year before, according to data compiled by Bloomberg.

There are 25 delegations from African and non-African governments registered to attend, down from about 45 in recent years, according to Moore, adding that the number could increase with late additions.
There's more investor interest in mining than last year, but they're still reluctant to put money into the industry, he said.
"They are keen to have a discussion and understand from producing companies: how will the current environment impact them, how will they weather the storm, what will they look like when they come out the other side," Moore said.
Before it's here, it's on the Bloomberg Terminal.
LEARN MORE