German Factory Orders Fall as Export Slowdown Cools Confidence
by
Orders drop 0.7% on month vs. estimate for 0.5 % decrease

December loss driven by decline in big-ticket orders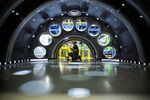 German factory orders fell more than anticipated in December, in a sign that a global trade slowdown may be restraining parts of Europe's largest economy even as domestic consumption proves robust.
Orders, adjusted for seasonal swings and inflation, dropped 0.7 percent from the prior month, when they rose 1.5 percent, data from the Economy Ministry in Berlin showed on Friday. The December reading for the highly volatile series compares with a median estimate for a decrease of 0.5 percent in a Bloomberg survey of economists. Orders dropped 2.7 percent from a year earlier.
While the pullback may be partly due to weaker emerging-market growth curbing confidence at German companies, the outlook for the domestic economy remains strong. Unemployment slid to a record low in January, and falling energy prices and European Central Bank stimulus are providing further support.
"We had very strong figures in November, and this series tends to have a reverse movement after you had strong data in the preceding month," Jens Kramer, an economist at NordLB in Hanover, said before the report. "Domestic demand in the German economy is very stable, and we have increasing capacity utilization, so nominally everything is right for a pickup in investment."
Domestic orders fell 2.5 percent, the ministry said, while euro-area orders slumped 6.9 percent and demand from outside the currency bloc rose 5.5 percent. Orders for investment goods declined 0.5, and for consumer goods surged 4.3 percent.
"Order activity somewhat recovered in the fourth quarter," the ministry said in a statement. "Increasing demand from countries outside the euro area indicates a gradual recovery the global economy. However, industry expectations have somewhat clouded, signaling a more modest recovery in industrial activity."
German unemployment slid to 6.2 percent last month, the lowest level since reunification, data from the Federal Labor Agency in Nuremberg showed earlier this week. While that's bolstering household spending, overseas trade is becoming a source of concern for German companies, with business confidence declining for a second month.

Slowing economic growth in China, Germany's fourth-largest trading partner, has thrown global markets into turmoil and cast doubt over the strength of the world economy. China's expansion is expected to slow to 6.3 percent in 2016 from 6.9 percent last year, the International Monetary Fund said in its World Economic Outlook last month.
Before it's here, it's on the Bloomberg Terminal.
LEARN MORE