Edgar Mitchell, Astronaut With Space 'Epiphany,' Dies at 85
Laurence Arnold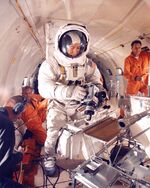 Edgar Mitchell, the sixth of 12 American astronauts to walk on the moon, a transformative experience that spurred him to explore the meaning of life and consciousness, has died. He was 85.
He died Thursday night at a hospice facility in West Palm Beach, Florida, following a five-month illness, according to his former wife, Anita Mitchell.
As lunar module pilot for the Apollo 14 mission in 1971, Mitchell spent more than nine hours walking on the moon's surface, along with Alan Shepard. The successful mission received extra attention because its immediate predecessor, Apollo 13, had suffered a technological failure that canceled its moon landing and almost killed its crew.
"He believed in exploration, having been drawn to NASA by President Kennedy's call to send humans to the moon," NASA Administrator Charles Bolden said Friday in an e-mailed statement. "He is one of the pioneers in space exploration on whose shoulders we now stand."
Apollo 14 blasted into space on Jan. 31, 1971. On Feb. 5, with Stuart Roosa staying behind in the command module, Mitchell piloted himself and Shepard to the moon's surface in the lunar module. Their landing area was the Fra Mauro Highlands, of interest to geologists because of its cone-shape crater.
During a 33-hour stay, Mitchell and Shepard collected about 100 pounds of lunar samples for return to Earth. Shepard, who was the first American in space in 1961, spent some of his time on the moon hitting golf balls to test the lack of atmosphere and gravity.
Sudden Insight
In a story he retold through the years, Mitchell described a moment during the return trip to Earth, as he gazed out the window of the spacecraft and saw the sun, moon, Earth and stars.
"Suddenly I realized that the molecules of my body and the molecules of the spacecraft and the molecules in the body of my partners were prototyped and manufactured in some ancient generation of stars," he said in an interview for "In the Shadow of the Moon," a 2007 documentary.
"And that was an overwhelming sense of oneness, of connectedness. It wasn't them and us, it was, 'That's me. That's all of it. It's one thing.' And it was accompanied by an ecstasy, a sense of -- 'Oh my god, wow, yes' -- an insight, an epiphany."
He left NASA in 1973 and founded the nonprofit Institute of Noetic Sciences, which supports "individual and collective transformation through consciousness research, educational outreach, and engaging a global learning community in the realization of our human potential." The group hosts retreats at EarthRise, a 200-acre campus in Petaluma, California.
Human Destiny
Mitchell wrote and spoke out against threats to human existence, including war, environmental destruction and "untrammeled consumption."
"It has occurred to me that human destiny is still very uncertain, that the veneer of civilization is yet exceedingly thin, and our current actions are not sustainable," he wrote in in the 1996 book "The Way of the Explorer: An Apollo Astronaut's Journey Through the Material and Mystical Worlds."
"Believing as I do that the universe is an intelligent system, and understanding the absurd and tragic fate that may await us, I have wondered if we are prepared for our own survival, if our own collective consciousness is yet highly enough evolved."
Mitchell also spoke about his conviction that alien life has visited Earth, including in July 1947 outside Roswell, New Mexico, near where he lived. The reported crash of an unidentified flying object near Roswell has long fueled speculation about extra-terrestrial visitors, even after the U.S. Air Force concluded in 1994 that the item in question was a high-altitude weather balloon.
Public Reaction
In a 2013 interview, Mitchell said the U.S. government covered up the real story in Roswell in fear of how the public would accept the news.
"Initially I think there was justification, in that leadership officials thought people weren't ready to handle it," he said. "But we are well past that now."
Edgar Dean Mitchell was born Sept. 17, 1930, in Hereford, Texas, the first of three children of Joseph Thomas Mitchell, known as JT, a third-generation cattle rancher, and the former Ollidean Arnold.
When Mitchell was 5, the family moved to New Mexico, settling first in Roswell, where his father and grandfather established a cattle ranch. He began taking flying lessons at 14 in Artesia, where he went to high school, and earned his pilot's license at 16.
Military Service
He received a bachelor's degree in industrial management from Carnegie Mellon University, in Pittsburgh, in 1952, then entered the U.S. Navy, winning commission in 1953 as an ensign. Following flight training, during the Korean War, he was assigned to a patrol squadron in Okinawa, where he flew A-3 strategic bombers off the aircraft carrier USS Ticonderoga.
Upon the news in 1957 that the Soviet Union had successfully launched its Sputnik satellite, Mitchell decided, as he put it, that "a new path of human exploration had just been opened up, and I wanted to be a part of it."
He received a bachelor's degree in aeronautics in 1961 from the U.S. Naval Postgraduate School in Monterey, California, then a doctorate in science in 1964 from the Massachusetts Institute of Technology, in Cambridge, Massachusetts.
While working at the Navy's Manned Orbiting Laboratory in Los Angeles, he won assignment to Edwards Air Force Base and its Air Force Test Pilot School, run by Chuck Yeager, who broke the sound barrier as a test pilot in 1947.
Apollo 9
Selected for astronaut training in 1966, Mitchell was on the support crew for Apollo 9 and was backup lunar module pilot for Apollo 10.
Following the Apollo 14 mission, Mitchell revealed that he had tried an experiment in extrasensory perception on route to the moon. On four occasions, he tried, with his mind, to convey the symbols on 25 randomly shuffled cards to four cohorts -- two doctors and two psychics -- back on Earth.
He said two of the four recipients got 51 correct answers out of the possible 200 -- versus the 40 that would be expected through chance -- and that the experiment "persuaded me that ESP could happen."
With his first wife, the former Louise Randall, he had two daughters, Karlyn and Elizabeth. He adopted the children -- Kimberly, Paul and Mary Beth -- of his second wife, the former Anita Rettig. Both of those marriages ended in divorce. He later married and divorced a former Playboy model, Sheilah Ann Ledbetter. Their son, Adam, died in 2010.
(Updates with NASA administrator's quote in fourth paragraph.)
Before it's here, it's on the Bloomberg Terminal.
LEARN MORE