Container Ship Stranded Near Hamburg as Command Crews Pump Fuel
by
Ultra-large container ship was sailing at low water levels

Emergency services made several attempts to free ship so far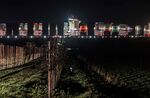 CSCL Indian Ocean, a 400-meter (1,312 feet) container ship owned by China Shipping Group Co., remains stranded in the River Elbe after running aground while approaching the German port of Hamburg late on Wednesday.
Maritime emergency crews have made several attempts to free the vessel, which became marooned at about 10 p.m. on Feb. 3, according to the Central Command for Maritime Emergencies Germany. It's unclear what caused the ship to ground, a spokeswoman for the Cuxhaven-based authority said by phone. The crews have begun to pump fuel from the vessel to prevent spillage, she said.

CSCL Indian Ocean, built and delivered last year, is one of a new generation of ultra-large container ships designed to favor size over speed. With a capacity of 19,100 20-foot boxes, or TEU, it has a service speed of 18 knots. Previous designs enabled ships to sail as fast as 29 knots.
The vessel was en route from Felixstowe in England and sailing at low water with a draft of 12.1 meters when it ran aground, according to data compiled by Bloomberg. Traffic in the German Bight has been slightly hampered as a result.
Before it's here, it's on the Bloomberg Terminal.
LEARN MORE