CLSA Expects the Year of the Monkey to Be Unpredictable
Bloomberg News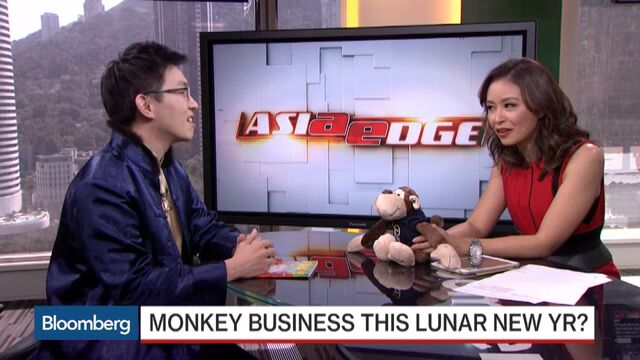 If an astrological approach to investing strikes you as a good idea, CLSA's Feng Shui index has some recommendations for the Lunar New Year. The tongue-in-cheek report, first published in 1992, contains forecasts provided by masters of feng shui, or Chinese beliefs about energy and harmony.
According to the report, Hong Kong's Hang Seng Index is destined to for a bumpy ride, but there's enough water to withstand the fire monkey. By the end of the year, things will look a bit better. CLSA expects auto-related stocks, machinery and financials to do well in the beginning of the lunar year, but advises caution over "water" industries -- gaming and transport. From November, it recommends avoiding telecommunications, technology, utilities and oil.
So how accurate are these forecasts? Last year's guide said Chinese property would do well from February to April and was proved correct; however it also foresaw good times for oil, gas and gaming from August to October. As CLSA says: "don't be a silly monkey and take it too seriously!"
Before it's here, it's on the Bloomberg Terminal.
LEARN MORE