China's 150 Million Tons of Steel Cuts Seen Too Small, Too Slow
Bloomberg News
Steel plan disappoints Macquarie, Capital Economics, Argonaut

Country produced about half the world's steel in 2015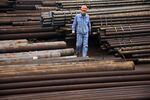 Plans to shrink China's bloated steel industry will probably fail to stem industry losses or curb the deluge of exports that's hurting producers from India to the U.S. and Europe.
As much as 150 million tons of capacity will be shut under a five-year blueprint that's part of a swathe of supply-side reforms directed by President Xi Jinping. The government is trimming the industry as demand sags after decades of expansion. The cuts, amounting to 13 percent of capacity at most, fall short of requirements, according to analysts from Capital Economics Ltd., Macquarie Group Ltd. and Argonaut Securities (Asia) Ltd.
"The announcement is actually a disappointment," Caroline Bain, a London-based senior commodities analyst at Capital Economics, said by e-mail. "Now that we know this is intended to happen over five years, the immediate market impact seems minimal and could actually be negative."

While steel production fell last year for the first time since 1981, demand is waning even faster and the nation is sending record volumes overseas. Shares in the world's biggest mill ArcelorMittal have dropped 58 percent in the past year, partly because the exports are fueling a slump in prices and profits.
"China's still going to be exporting steel and associated deflationary pressures for a while," Colin Hamilton, head of commodities research at Macquarie in London, said by e-mail. The world needs 200 million tons to 250 million tons of capacity cuts, he said.
The blueprint includes a ban on new capacity, financial support for the mills and encouragement of mergers and acquisitions. About 400,000 jobs may be lost, a leading official with a state-owned consultancy said in January.
Shares Rise
Steelmakers' shares rose on Friday, with Angang Steel Co. up 3.2 percent in Hong Kong and Baoshan Iron & Steel Co. gaining 2.5 percent in Shanghai.
A raft of Chinese steelmakers have warned of big losses or large profit declines in the past few weeks, with Angang Steel, the fourth-biggest, predicting a 4.38 billion yuan ($667 million) loss and Wuhan Iron & Steel Co. seeing a 6.8 billion yuan loss. The government has to balance a serious situation for the steel market with the need for social stability, Helen Lau, analyst at Argonaut Securities (Asia) Ltd. in Hong Kong, said by phone.
"It looks like China isn't going to reduce supply according to expectations," Lau said. "They may want to make sure that workers can be relocated slowly to other areas and ensure a smooth transition."
— With assistance by Martin Ritchie
Before it's here, it's on the Bloomberg Terminal.
LEARN MORE