China Oil Output Seen Cracking Under Pressure of Price Collapse
by
Domestic production forecast to fall first time since 2009

Crude output may decline by as much as 5 percent: Nomura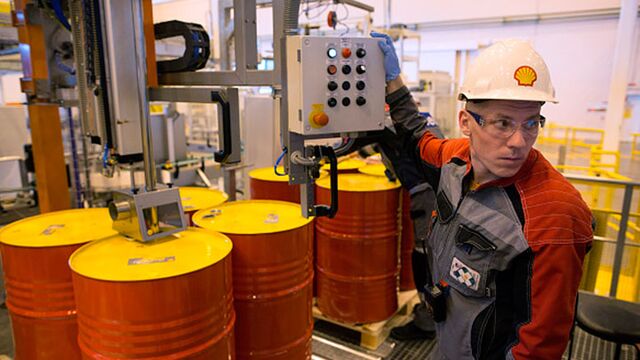 Cheap crude is a double-edged sword for one of the world's biggest markets.
China's output in 2016 will decline between 3 percent and 5 percent from last year's record 4.3 million barrels a day, according to analysts from Nomura Holdings Inc. and Sanford C. Bernstein & Co. That would be the first decline in seven years and the biggest drop in records going back to 1990. The country is the world's fifth-largest producer and biggest consumer after the U.S.
Oil prices have plunged more than 50 percent since Saudi Arabia led a 2014 decision by the Organization of Petroleum Exporting Countries not to cut output amid a global glut to drive out higher-cost producers. The kingdom was China's biggest supplier last year, accounting for 15 percent of the country's overseas purchases.

"We expect significant cuts in upstream production as the companies cut output at loss-making fields," said Neil Beveridge, a Hong Kong-based analyst at Sanford C. Bernstein & Co. "Chinese explorers need to take more radical action to cut operating costs and increase efficiency."
Sliding domestic production complicates efforts to keep pace with growing fuel consumption and build emergency crude reserves without increasing its reliance on imports. Overseas supplies meet almost two-thirds of the country's demand, according to China National Petroleum Corp.
5% Drop
Cnooc. Ltd., the country's biggest offshore crude explorer, plans to reduce both output and capital spending in 2016. China Petroleum & Chemical Corp. said last month oil and gas production fell for the first time in 16 years, while CNPC plans to maintain crude production near 2015 levels.
While some Middle East suppliers can operate with oil at $25 a barrel, the break-even cost for China's Cnooc is closer to $41, according to Nomura Holdings Inc. analyst Gordon Kwan, who predicts the country's domestic crude production will fall by 5 percent this year.
China announced last month fuel prices won't be cut in line with crude as long as it trades below $40 a barrel. The National Development and Reform Commission said the floor is designed in part to shield domestic oil producers from the global price collapse.
"The policy is designed to provide explorers room to breathe," said Laban Yu, head of Asia oil and gas equities at Jefferies Group LLC in Hong Kong. "China cannot afford to shut down domestic production no matter how cheap crude gets."
CNPC plans to maintain crude output near 2015 levels, Deputy General Manager Wang Dongjin was quoted in a statement posted last month on the company's website. Details weren't provided. The country's biggest producer has only a "limited amount" of money to invest this year and will spend on oil and gas projects that improve efficiency or promote sales, Wang said.
Fellow state-run energy giant China Petroleum & Chemical, also known as Sinopec, said on Jan. 27 that oil and gas output in 2015 fell as a slump in domestic crude production outweighed record volumes of natural gas. Cnooc said last month that output will fall this year, the first time in more than a decade, as it accelerates spending cuts.
Before it's here, it's on the Bloomberg Terminal.
LEARN MORE