BOE's Broadbent Sees Signs Low Inflation Holding Back Wages
by
Deputy Governor for Monetary Policy speaks in BBC interview

Says there's `no urgency' to raise U.K. borrowing costs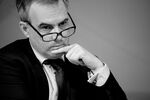 Bank of England Deputy Governor Ben Broadbent said there are some signs that low inflation is restraining wage growth and that policy makers are in no hurry to increase interest rates.
Speaking on BBC Radio on Friday, Broadbent said there is "no urgency" to raise the benchmark rate from a record-low 0.5 percent, where it's been for almost seven years.
His comments echo those of Governor Mark Carney who signaled on Thursday that higher borrowing costs are still some way off as the central bank cut its inflation forecast and the Monetary Policy Committee voted unanimously to maintain emergency policy settings.
Broadbent said the MPC "thinks its possible that low inflation out turns are having some impact" on wage growth, though there was no sign of a wage-deflation spiral developing. In the minutes of its policy meeting published Thursday, the MPC said it "remains watchful for signs that low inflation is having more persistent second-round effects on wages."
While the deputy governor's comments underscore the idea that a rate increase won't happen soon, he suggested the bank isn't comfortable with market pricing for the first rate increase in 2018.
Next Move
Based on the latest projections, it's "likely that interest rates will have to go up over the next two or three years," he said. "The path of interest rates on which the forecast is conditioned is actually higher than the one currently in financial markets."
Consumer prices grew an annual 0.2 percent in December, far below officials' 2 percent target. The central bank predicts consumer-price growth will increase to about 1.2 percent in the first quarter of next year and 2.1 percent in the first quarter of 2018. An analysis of the path of rates using the OIS curve shows the probability of a cut outweighing that of a hike this year, something Broadbent discounted, saying the next move will probably be a tightening.
"What we are focused on is how those prices evolve over the future," Broadbent said. "That annual inflation rate is going to remain low, but remember it takes time for policy to work. That's why we're having to make forecasts, that's why we're having to look forward. And as far as we can see, looking a year and a half, two, three years ahead, inflation is likely to be at, if not above the target"
He presented a bright picture of the domestic economy, saying cuts to the BOE's growth forecasts had been small and that core inflation, a measure that strips out volatile food and energy prices, had moved higher.
"We've seen a pretty solid recovery, we've got record employment," Broadbent said. "While there's no certainty, no great urgency to raise interest rates at the moment, nor do I think we're in a place where we're having immediately to ease it."
Before it's here, it's on the Bloomberg Terminal.
LEARN MORE