BNP Paribas Jumps as Bank Raises Dividend, Targets Cost Cuts
by
Targets 1 billion euros in savings at investment bank by 2019

BNP raises dividend to 2.31 euros a share, highest since 2007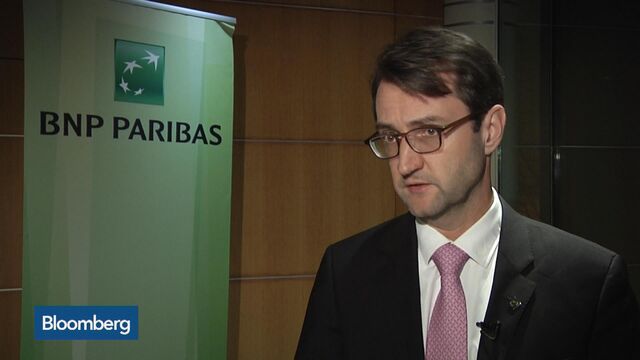 BNP Paribas SA jumped as the French lender raised its dividend to the highest in eight years and pledged to cut costs at the investment bank to free up capital.
QuickTake Will Britain Leave the EU?
France's biggest lender proposed a dividend of 2.31 euros a share for 2015, up from 1.50 euros a year earlier, it said in a statement on Friday. Fourth-quarter net income fell 52 percent to 665 million euros ($744 million) from 1.38 billion euros, hurt by a goodwill writedown at its Italian unit. That missed the 864 million-euro average estimate of five analysts surveyed by Bloomberg.

Europe's largest banks are under pressure to shrink their securities units and focus on the most profitable businesses as regulators toughen scrutiny of riskier activities. Under its overhaul, BNP is looking to cut risk-weighted assets at the investment bank by 20 billion euros and trim 1 billion euros in costs by 2019 as it seeks to focus on businesses that generate higher fees and use less capital.
"Their solidity is a nice surprise compared with the very bad results of banks like Deutsche Bank and Credit Suisse," said Jerome Forneris, who helps manage about $9 billion at Banque Martin Maurel in Marseille. "They've identified growth sectors in which they can win market share and other under-performing sectors that they're going to reduce."
The shares jumped as much as 5.6 percent, the biggest intraday gain since August, and were up 2.9 percent at 42.15 euros at 4:44 p.m. in Paris. That was still 19 percent lower than at the start of the year.

Deutsche Bank AG, which runs Europe's largest investment bank, and Credit Suisse Group AG both logged losses at their securities units in the fourth quarter. At UBS Group AG, which overhauled its businesses in 2012 to focus on wealth management, the securities unit reported a profit drop of 63 percent.
BNP said it plans to reduce and reallocate more than 10 percent of risk-weighted assets at its corporate and institutional banking unit through 2019 as the business expands. The unit is seeking annual revenue growth of at least 4 percent between 2015 and 2019, an improvement in the cost-income ratio, a measure of efficiency, by 8 percentage points and 1.6 billion euros of additional pretax profit compared with 2015.
BNP Paribas is cutting about 12 percent of CIB's cost base to help offset higher costs tied to regulation and the expansion of some businesses within the unit.
'Some Headwinds'
"The objective we have is to really improve operational efficiencies," Chief Financial Officer Lars Machenil said in an interview with Bloomberg Television's Caroline Connan. "We've adapted in the past, but there are some headwinds potentially ahead, particularly around regulation."
In the fourth quarter, CIB, which houses the securities-trading activities, said that pretax profit slipped 9.2 percent to 574 million euros from a year earlier. Global markets reported revenue of 1.18 billion euros, up 8.9 percent, with pretax profit down 12 percent.
The securities unit's revamp "has more substance than might have been anticipated and commitment to rein in capital consumption is significant," said Piers Brown, an analyst at Macquarie, who rates the stock outperform.
Machenil said in the interview that BNP is winning market share as banks including Royal Bank of Scotland Group Plc are cutting securities businesses.
'Competitive Edge'
"Part of that growth is stemming from market-share grabbing because some of the other banks have retracted out of some activities and we have taken on their clients," he said. "Even though the growth might not be as spectacular as it used to be, there is a difference between some retracting out of the business and we have definitely adapted."
Revenue from equity and prime services jumped 29 percent, helped by a "sharp rise" in derivatives, while fixed-income trading rose 1.3 percent, helped by a "good performance" in foreign exchange, credit and rates, the bank said.
BNP said in the statement that it seeks to strengthen its "European leadership, capitalize on long-term regional growth in Asia-Pacific and better align the platform in the Americas with the group's strategy and clients." The lender wants to keep its "competitive edge" in trading areas such as derivatives, credit and foreign exchange, while seeking to expand its advisory, securities services, cash management and trade finance businesses.
'On Track'
Profit from BNP's main European consumer-banking markets fell 8.1 percent to 741 million euros in the quarter as BNL, its Rome-based branch network, posted an 82 million-euro loss. Earnings at BNP's international financial services division, which includes wealth and asset-management, rose to 1.2 billion euros from 1.1 billion euros. That includes its BancWest U.S. retail unit, where profit rose 26 percent to 255 million euros.
The French lender confirmed it is targeting a return on equity, a measure of profitability, of 10 percent for 2016. The measure was 8.3 percent at the end of 2015.
"As you've seen from results, our plan is right on track," Machenil said, when asked if the bank will be able to maintain its dividend levels. "So normally that should clearly lead us to a 45 percent payout."
European lenders have been seeking ways to free up capital as regulators demand they hold higher buffers against risks. BNP's common equity Tier 1 ratio, a gauge of financial strength, rose to 10.9 percent at the end of 2015 from 10.3 percent a year earlier. The bank is shooting for 11.5 percent by mid-2017, helped by the possible initial public offering of First Hawaiian Bank, and has set a target for 12 percent in 2018.
BNP booked 993 million euros in goodwill impairments in the fourth quarter, which were partially offset by a 352 million-euro capital gain on the sale of its remaining stake in Klepierre SA. The cost of risk dropped 4.3 percent to 968 million euros in the year.
Before it's here, it's on the Bloomberg Terminal.
LEARN MORE