BNP Paribas Plans Trading Cutbacks Even as Revenue Tops Rivals
by
Plans to win share in Americas, Asia, transaction banking

Fourth-quarter trading income up 8.9% to $1.3 billion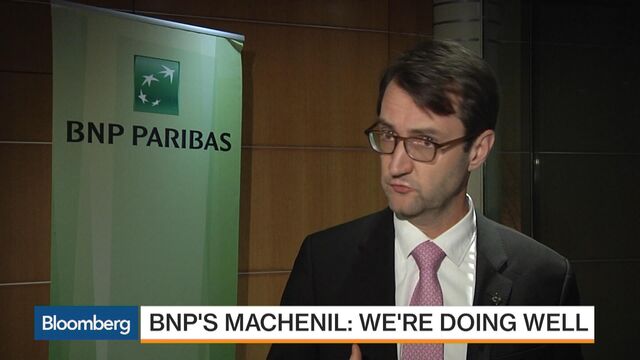 BNP Paribas SA posted higher revenue from trading in the fourth quarter as most of its bigger competitors lost ground, while rising costs at the unit are prompting an overhaul of the investment banking division to support returns.
Fourth-quarter trading income rose 8.9 percent to 1.18 billion euros ($1.32 billion) in the three months through December from a year earlier, with fixed income and equities both posting gains, France's largest bank said in a statement Friday. The Paris-based firm said it would shrink capital-intensive parts of its investment bank, while investing in businesses where it stands to gain market share.
BNP cited "strong growth" in prime services and equity derivatives at its stock trading arm, and a "good performance" in currencies, interest rates and credit trading at the debt fixed income division last year. On Thursday, Credit Suisse Group AG reported that it lost money in trading, joining other firms that saw clients retrench as markets were buffeted by a slump in oil prices and concern over growth in China.
"All banks are under pressure to shrink capital-intensive trading businesses, especially in fixed income, so even if you had a good couple of quarters, there's just no way around it," Michael Seufert, an analyst at Norddeutsche Landesbank who has a hold recommendation on BNP shares, said by phone from Hanover, Germany.
Market Share
Five of the eight top investment banks that have reported quarterly earnings showed a decline in the period, data compiled by Bloomberg show. That group doesn't include BNP.
Chief Financial Officer Lars Machenil said on Bloomberg Television that the bank is taking market share from rival banks that are retreating from certain business segments. "In a context of relatively high volatility, global markets delivered a good commercial performance with a rise in client volumes," BNP said of its trading unit's performance for last year.
At the wider investment bank, known as corporate and institutional banking and run by Yann Gerardin, the 2.64 billion euros of revenue in the quarter was 4 percent higher than analysts had expected on average, Citigroup Inc. analysts wrote Friday. Gerardin was one of the founders of the bank's equity derivatives business, joining the lender in 1987.

BNP said it will lift profitability at the CIB in the face of additional costs and and stricter capital requirements. The bank will shrink "unproductive" and "low-return" assets weighted by risk by 20 billion euros, and add another 31 billion euros of risk-weighted assets by 2019 to win market share, develop client relationships and invest in the Americas and Asia Pacific regions, according to a presentation published on its website.
The firm said it will invest to become a top four "global multi-asset servicer" and a "leading multi-regional flow provider" in its transaction banking arm. It will keep resources stable across its financing and advisory businesses, while seeking to make "more efficient use of capital and balance sheet" in the segment which houses most of its trading operations.
The plan aims to generate about 2.1 billion euros of additional revenue, while 1 billion euros of savings BNP is targeting will be offset by 500 million euros of costs for growth and 500 million euros for regulatory expenses and other "inflation," the bank said. The changes will result in further one-time costs of 800 million euros of costs through 2018 related to the cuts and growth plan, BNP said.
"The dangerous thing is that this regulation is pushing banks into many of the same businesses and we could get to the point where they all suffer in a downturn in those spaces," Norddeutsche Landesbank's Seufert said. "When you look at transaction banking, the competition is increasing."
Before it's here, it's on the Bloomberg Terminal.
LEARN MORE