Blackstone Welcomes $200,000 Bets in Cosmopolitan Casino Reboot
By
More credit for gamblers and higher limits deliver profit

$3.9 billion hotel opened in 2010 with players as afterthought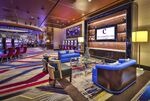 Bill McBeath knew exactly what was missing at the Cosmopolitan Las Vegas: gamblers.

In the 14 months since Blackstone Group LP brought him in to run the 3,000-room resort, McBeath has created a new high-limit slot machine lounge and added more baccarat tables to the hotel's speakeasy-like Talon Club. Just in time for Super Bowl Sunday, he opened a new sports betting area, moving it to the main level from the second floor and doubling the size.
"The bottom line is you have a casino. Instead of downplaying that, let's celebrate it," McBeath said in an interview. "Let's have a funner, more energized environment."

The $3.9 billion Cosmopolitan was supposed to be a new kind of Vegas resort, where trendy restaurants and nightclubs would drive the business as much as blackjack and slots. Yet previous owners neglected the core customer and the betting side of the business was a laggard.

Now that's changing. Through nine months of 2015, casino revenue rose 13 percent to $176 million and the company reported its first two profitable quarters. By contrast, total betting on the Strip was down 1.5 percent.
"The joke was you'd go there later at night, you'd notice the slot-machine seats were filled with people waiting in line to go to the clubs," said William Newby, who runs the boutique investment bank TFA Capital Partners and has worked with the biggest casino companies.
Work in Progress
Blackstone, led by billionaire Steve Schwarzman, and McBeath still have work to do. The Cosmopolitan, with weekend room rates of $300 a night, is chasing the same high-end clientele as Wynn and Bellagio. As a standalone casino, without a national network of properties and customers, McBeath's marketers can't tap into a giant database of loyal gamblers to fill rooms. And the property's vertical design, with shops and restaurants on multiple levels, will continue to be a challenge, according to Steven Norton, a casino consultant in Alton, Illinois.

"It takes away from the synergy of the whole thing when you've got to go up escalators," Norton said. "You lose a lot in traffic that just walks by."
The Cosmopolitan was conceived by New York developer Ian Bruce Eichner, who envisioned a more Manhattan-like property for Nevada. Constructed on 8.5 acres (3.4 hectares), a third the size of the typical Las Vegas resort, the Cosmopolitan was built up rather than out.
Financial Crisis
Eichner's plan faltered amid the financial crisis and collapse in real estate prices. The property's lender, Deutsche Bank AG, took over construction in a 2008 foreclosure and opened the resort two years later, airing a widely seen TV ad that never showed a casino and boasted of "just the right amount of wrong." The bank sold the money-losing property in May 2014 to New York-based private equity firm Blackstone for $1.73 billion, less than half of what it cost to build.

Blackstone isn't looking to sell Cosmopolitan and is open to investments in casinos elsewhere if the right opportunity arises, according to Tyler Henritze, a senior managing director in the company's real estate group.
"We could be interested, we understand the space better," he said in an interview.
Peter Grauer, chairman of Bloomberg LP, the parent of Bloomberg News, is a non-executive director at Blackstone. Eichner didn't respond to requests for comment.
Higher Limits
The former president of MGM Resorts International's Bellagio and Mirage resorts, McBeath joined the company in December 2014. To lure more high rollers, he raised the casino's betting limits to as much as $200,000 a hand and the credit it extends to $5 million per gambler. Maximum payouts on slot machines jumped to $1.25 million from $400,000.

"There was a risk quotient the bank wasn't tolerant of," McBeath said of Cosmopolitan's previous owner.
A spokeswoman for Deutsche Bank declined to comment.
Even as he's offered more credit to gamblers, McBeath has taken a scalpel to entertainment costs, cutting the number of concerts the Cosmopolitan promotes and refusing to pay sky-high prices for superstar DJs. Gone, too, are the go-go dancers who used to gyrate above the casino floor.

"We're a unique luxury brand with a twist, and there wasn't anything luxury about that experience for me," McBeath said.
Through nine months of 2015, Cosmopolitan posted revenue of $569.3 million and net income of $14.7 million, according to a regulatory filing. Adjusted earnings before interest, taxes, depreciation and amortization increased 25 percent to $145.4 million.
Next up, McBeath is finishing the top four floors of the resort's east tower with 21 VIP suites. They will feature ceilings as high as 18 feet (5.5 meters) and wrap-around balconies with views of the Strip. Even the boring green felt on top of the Cosmopolitan's card tables got replaced with colorful coverings that promote restaurants at the resort.
"You have an opportunity to advertise to a captured audience at zero cost," McBeath said. "That was a no-brainer."
Before it's here, it's on the Bloomberg Terminal.
LEARN MORE