Bill Gross Investors Aren't the Only Ones Pulling Pimco Money
By
All Authority fund assets fell 76%, more than Total Return

`This is a very tough time' for value strategy, Arnott says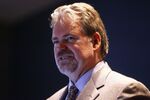 When Bill Gross left Pacific Investment Management Co. in 2014, it wasn't surprising that investors bolted. But now customers are deserting another Pimco star manager who's still in his seat.
Investors last year pulled a combined $15.8 billion from two mutual funds run by 61-year-old Rob Arnott -- Pimco All Asset and All Asset All Authority-- as their returns trailed most peers for the third straight year. They had Pimco's most redemptions in 2015 except for Gross's old fund, the Pimco Total Return Bond Fund, with $54.6 billion in withdrawals.
Arnott's strategy is to buy unloved assets, betting that growth stocks will lag and emerging markets revive. The contrarian approach has faltered in recent years, and he's not alone. Value money managers, including billionaire Warren Buffett's Berkshire Hathaway Inc. and the team running the $7.2 billion Sequoia Fund, struggled in 2015.
"This is a very tough time to be a value investor," Arnott, wearing Nile crocodile boots, said during an interview in the Newport Beach, California, office of his investment firm, Research Affiliates. "Now that these strategies are a bargain, we're seeing outflows. It's human nature."

The two funds continued to bleed more than $1 billion combined in January, even though they are outperforming stocks so far this year. All Asset is down 1.4 percent through Feb. 4 while All Asset All Authority has lost less than 1 percent. The Standard & Poor's 500 Index has dropped more than 6 percent.
Arnott, who co-founded Research Affiliates in 2002, helped pioneer what he calls fundamental indexing, an approach designed to limit risk and beat benchmarks over the long haul by favoring undervalued segments of markets including equities, fixed-income, currencies and inflation-protected securities.
The two funds Arnott developed for Pimco in 2002 and 2003 were intended as a source of diversification for investors who keep most of their money in U.S. stocks and bonds. They invest in a mix of Pimco mutual funds and exchange-traded funds.
Arnott's funds performed well for much of their history, especially in difficult markets. In 2008, when the S&P 500 fell 37 percent, the All Asset fund lost 15 percent and the All Authority Fund dropped 6.9 percent. In the five years ended in 2012, the two funds outperformed 97 percent and 99 percent of peers respectively, according to data from Chicago-based Morningstar Inc.
Then, in 2013, as the S&P 500 rallied 32 percent, some of Arnott's top holdings went in the other direction.
Worst Performance
In 2015, shareholders withdrew $8 billion from All Asset All Authority, which tumbled 12 percent, the worst performance since its 2003 inception. All Asset lost a net $7.8 billion last year, according to Bloomberg estimates, as the fund fell 8.7 percent, its largest drop since 2008.
Redemptions from All Asset All Authority surpass even Pimco Total Return in percentage terms when looking at their peaks. All Asset All Authority assets are down 76 percent from their 2013 high, to $8.6 billion, compared with Total Return's 70 percent drop from its all-time high the same year.
"Many people don't have a strong enough stomach" to stay with Arnott, said Mark Wilson, who helps oversee $450 million at Tarbox Group, including Research Affiliates investments. "That's the life of a contrarian at the highest levels. Maybe you're right over the long term but you have to survive the trade."
'Maverick Risk'
The All Asset Fund, which seeks long-term total returns of at least 5 percentage points above the annual cost of living increase, has slumped as inflation stays tame and emerging markets lose ground amid weak commodity prices and a strong dollar. All Authority, which Arnott describes as a "maverick risk" fund, has trailed its benchmark of inflation plus 6.5 percent since 2005.
Its largest holding as of Sept. 30 was the Pimco StocksPlus Short Fund, which employs derivatives to capture the inverse performance of the Standard & Poor's 500 Index. That fund lost money every year since 2008.

Arnott's influence as a strategist extends beyond Pimco, where Research Affiliates is the only subadviser. A total $135 billion in funds and accounts at firms including Charles Schwab Corp. and Invesco Ltd. license his investment-picking methods.
His ability to retain investors has broad implications for Pimco. All Asset and All Authority are the biggest stakeholders in several funds at the firm, including the $1.9 billion Pimco RAE Fundamental Plus Fund, which Arnott also advises, and the $4.6 billion Pimco Emerging Local Bond Fund.
Pimco showed its confidence in Arnott last year when it announced six new stock funds using his strategy, after slashing its in-house stock-picking unit. The largest of Arnott's six stock funds, the $463 million Pimco RAE Fundamental U.S. Fund, has lost 9.1 percent since the June 15 announcement of his management.
It would be a bad sign if the manager changed his strategy just to avoid redemptions, according to Morningstar analyst Jeff Holt, whose firm gives a gold rating to the All Asset Fund and a bronze to All Asset All Authority.
"It would mean there's not a lot of conviction," Holt said. "It gives me confidence that they're not flaky, they're not waffling around, that they believe in their process."
Passive Strategies
Research Affiliates offers a contrast to passive index strategies, which Arnott says reflect past results more than future returns.
"The biggest enemy of investing is performance chasing," he said. "We don't know where the bottom is. But we do know that the first year of the bull market for emerging markets is likely to be explosive."
Smaller investors often pick the worst times to buy and sell, he said. Even as retail clients fled Research Affiliates' strategies last year, U.S. and European institutions added more than $5.7 billion.
In 2008, All Asset's 15 percent loss sparked redemptions the next year, just as the equity market was bottoming. Investors who sold missed the 23 percent rebound in 2009.
Arnott said he still holds 100 percent of his 401(k) plan in All Authority, the more aggressive of the two funds, a sign of his faith in the strategy.
"If I had to look back on the last three years," he said, "my biggest personal disappointment is that we didn't educate our clients well enough on contrarian thinking, on long-term investing and on recognizing that what's cheap will have inflicted pain."