Barclays Hired by U.K. to Manage Remaining Lloyds Stake Sale
by
British lender won role to handle $5.8 billion stake sale

Chancellor George Osborne postponed retail offer last week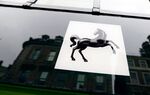 Barclays Plc, Britain's second-largest bank, has been hired to manage the eventual sale of the U.K. government's remaining 4 billion-pound ($5.8 billion) stake in Lloyds Banking Group Plc.
Barclays won the role before Chancellor of the Exchequer George Osborne postponed the divestment last week, according to a filing on a government website. While Goldman Sachs Group Inc. is the U.K.'s privatization strategy adviser, Barclays is the only bank formally appointed to oversee the share sale, said two people with knowledge of the matter, who asked not to be identified because the matter is private.
Osborne, who had planned to sell of some of the nation's 9.2 percent stake to consumers in the spring, announced last week that he wouldn't give the go-ahead until market conditions calm down. While a Treasury official said the government hadn't ruled out a sale after Easter, the chancellor may be forced to postpone the process until the second half of the year at the earliest, should Britain hold a referendum on European Union membership in June.
Barclays won the role because it has a retail stockbroking business in addition to its equity capital markets franchise within its investment bank, the people familiar with the matter said. That's desirable for British officials as they plan to offer at least 2 billion pounds of Lloyds shares to individuals in a discounted privatization similar to the selloffs under Prime Minister Margaret Thatcher.
While Osborne is still keen on a retail offer, UK Financial Investments Ltd., which manages Britain's bank holdings, has cautioned against selling in the immediate run-up to a referendum, two people with knowledge of the matter have said. As the nation's largest mortgage lender, Lloyds is closely tied to the fortunes of the U.K. economy, which could be harmed by a so-called Brexit and uncertainty before the vote.
Officials at Barclays and the Treasury declined to comment.
Before it's here, it's on the Bloomberg Terminal.
LEARN MORE