Wall Street Cuts Its Rate Forecasts Even Further Below Fed's
by and
Economists lower terminal projections to 2.875% in survey

Policy makers anticipate a 3.5% rate when hiking cycle ends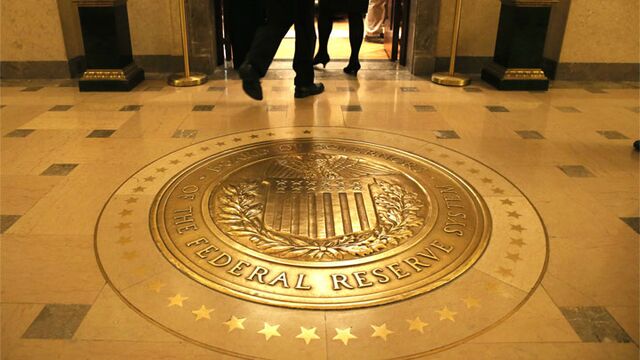 Economists are deviating even more from the Federal Reserve in forecasting how high interest rates will rise, joining bond and futures traders in doubting the central bank's projected policy-tightening path.
Analysts and strategists in a Bloomberg survey cut their forecasts for the Fed's peak policy rate at the end of this tightening cycle, known as the terminal rate, to a median of 2.875 percent from 3.375 percent in a July poll. That compares with the Fed's latest forecast of 3.5 percent published in December, down from 3.75 percent in June.

The cut reflects rising sentiment that weak economic growth, low inflation and global turmoil will force the Fed to back off its intention to raise its overnight rate four times this year after lifting off from near zero in December. Futures traders are assigning coin-flip odds to whether the Fed will be able to raise rates even once in 2016, as investors seeking a haven amid routs in equities and oil have spurred Treasuries to a 2.8 percent gain this year.
The Fed's "forecast assumes we don't have deflationary risk," said Steven Ricchiuto, chief economist at Mizuho Securities USA Inc., one of 22 primary dealers that trade with the central bank. "The global deflationary pressures are accumulating. People are recognizing that central banks can't solve global deflationary pressures."
The benchmark 10-year note yield fell five basis points, or 0.05 percentage point, to 1.84 percent as of 5 p.m. in New York, according to Bloomberg Bond Trader data. The 2.25 percent security due in November 2025 was at 103 21/32. The yield dropped to 1.79 percent Wednesday, the lowest in a year.
While the Fed expects its policy rate will peak sometime beyond 2018, 36 of 46 survey respondents forecast it will get there by the fourth quarter of 2018. 

Mizuho's Ricchiuto forecasts a peak funds rate of 0.5 percent, matching the lowest in the survey, which was conducted Feb 2. The Fed will raise rates only once this year and then stop, and 10-year yields may drop to 1.5 percent by year-end, he said.
Futures traders expect the Fed's effective rate to be about 0.51 percent by year-end. That metric fell as low as 0.47 percent Wednesday, closer to the current effective overnight rate of 0.38 percent than to 0.625 percent, where it may stand if the central bank raises its target range by a quarter-point again. Traders see a 46 percent chance the Fed will raise rates at or before its Dec. 14 meeting, down from a 93 percent probability assigned at the end of last year.
New York Federal Reserve Bank President William Dudley said in an interview with Market News International that financial conditions have tightened since late last year and policy makers will take this into account when they meet next month to decide whether to raise rates again. 
The Federal Open Market Committee said it's "closely monitoring global economic and financial developments" while "assessing their implications for the labor market and inflation, and for the balance of risks to the outlook" in a statement after its policy meeting last week.
Before it's here, it's on the Bloomberg Terminal.
LEARN MORE