Taco Bell and the Secret Future of Super Bowl Hype
Putting out a Super Bowl ad seems to get more complicated every year.
By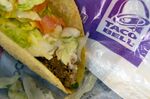 During the first quarter of the Super Bowl, Taco Bell will run an advertisement unveiling a top-secret new product. Unless you're a Taco Bell fan, you probably don't care. If you are, you may already have an inkling what it is. Reports of a quesadilla-chalupa hybrid—the "quesalupa"—have been circulating online for months.