Taco Bell and the Secret Future of Super Bowl Hype
Putting out a Super Bowl ad seems to get more complicated every year.
by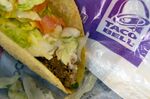 During the first quarter of the Super Bowl, Taco Bell will run an advertisement unveiling a top-secret new product. Unless you're a Taco Bell fan, you probably don't care. If you are, you may already have an inkling what it is. Reports of a quesadilla-chalupa hybrid—the "quesalupa"—have been circulating online for months.
Taco Bell won't confirm the quesalupa rumors and insists there's still a big secret to be revealed. To build anticipation for its Super Bowl ad, the restaurant chain put out a mock-redacted press release and a series of online videos starring minor celebrities holding a green brick meant to stand in for the product. The restaurant is also taking preorders, from people who are comfortable ordering an unknown cheese-based food item several days in advance. They can pick up their meals starting Saturday at 2:00 p.m. As they are the first tasters, it's presumably their job to spread the word of their first impressions. 
Having a Super Bowl ad once meant just making a commercial and paying to show it during the NFL title game. The big audience meant the airtime was more expensive, and marketers tried a bit harder to keep their ideas under wraps. Other than that, Super Bowl ads were a lot like other TV ads.
That changed in 2011 when Volkswagen posted a commercial featuring a little kid in a Darth Vader suit on YouTube on the Wednesday night before the Super Bowl. It had millions of views within a matter of hours and went on to become one of YouTube's most-watched ads of all time. At last count, it had amassed 63.8 million views.
Every other advertiser wanted the same thing. In short time, most ads ended up on YouTube the week before the game to tap into pregame interest.  Once a new status quo emerged, it was inevitable that some companies would try to stand out in a new way. "The rules are constantly shifting," said Marisa Thalberg, Taco Bell's chief marketing officer. "Now you're going to see a range of tactics."
One constant has been a level of secrecy that is unrivaled in the advertising industry for the rest of the year. Ad agencies build partitions within their offices, segregate employees working on Super Bowl spots, and refuse to e-mail around rough cuts for feedback. PepsiCo called in a round of actors for auditions for a Mountain Dew Kickstart spot it is airing on Sunday and had them fake tag lines. "If we gave them what the character actually said, we'd be giving away the idea," said Greg Lyons, senior vice president for brand marketing at PepsiCo. "On a regular ad, we would never do that, of course."
The only reason to keep an ad campaign secret is to develop some clever way to get more attention for it when it goes public. Compared with the television ad, the online campaigns are practically free, but only a few of them will win each year. Mountain Dew began releasing teaser ads several days ago and also negotiated a deal with the Today Show to unveil it on Wednesday morning. (PepsiCo, which owns Mountain Dew, said no money changed hands.) It stars something called a puppymonkeybaby.
Lots of people watch Super Bowl ads on YouTube—840 million minutes last year alone, by YouTube's count. But attention is hardly split evenly. As of 10:00 p.m. Wednesday night, the most popular spot on YouTube's collection of 2016 Super Bowl ads had more than 11 million views; the least popular had just 27. 
While the efficacy of the Super Bowl ads themselves can be a bit hard to measure, it's easy to look at the numbers surrounding the social media campaigns. No self-respecting ad agency wants to have an ad whose YouTube views don't cross seven figures after spending about $5 million for the TV spot. "You don't want to blow that money," said Mike Sheldon, the chief executive of Deutsch, the agency that made the 2011 Volkswagen ad and is running this year's Taco Bell campaign.
It's not clear whether Taco Bell is blowing its money or not. Two of the three teaser videos had been viewed fewer than 50,000 times as of Wednesday evening. But commenters on the video seem to take great satisfaction in saying that they know what the new product is. The winking secrecy also seems to be driving interest in the product that most people assume the restaurant is talking about. Google searches for quesalupa have skyrocketed in recent weeks. 
There was never much of a chance of keeping the quesalupa secret. Thousands of employees had to be trained on how to make them, and that's after the product was tested in Toledo, Ohio, last spring. Cory Smith, a 27-year-old Ohioan with a refined palate for Taco Bell, tasted the quesalupa during a product test. Smith's take: It's too greasy, even by Taco Bell's standards. "Somehow the shell didn't stay crisp like a chalupa shell, but sponged up all the fryer grease, and grease from the meat. Also, the cheese wasn't abundant enough to make a huge difference in taste," he said. "I actually threw half of it away."
If Taco Bell's new product really is the quesalupa, the restaurant has to hope that the majority of its customers react better than one skeptical Toledan. Then again, maybe it's planning to throw everyone for a loop and release a taco served inside a gordita, wrapped in a corn husk, folded into a crepe, enveloped by a fried blueberry pancake, and handed to customers in a commemorative tote bag. That would be a pretty amazing surprise.
Before it's here, it's on the Bloomberg Terminal.
LEARN MORE