Super Bowl Tests Twitter's Dominance in Ads Paired With Live TV
By and
Competition for real-time ads heats up with Facebook, Google

Advertisers start to sour on Twitter's audience size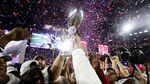 Wix.com, which makes tools for creating websites, has spent millions of dollars for its Super Bowl advertising campaign in which the characters from DreamWorks Animation's "Kung Fu Panda 3" discover that a good website can help them sell noodles. The company is in the midst of a multiweek effort to capture the attention surrounding the game, splitting its budget with television, Facebook Inc., Google and YouTube.
Virtually absent from the plan? Twitter Inc., the company that made its name as the venue for real-time conversation about live events.
"The Twitter budget is so small, I don't even remember," said Omer Shai, Wix's chief marketing officer, who said more than 100 million people have already seen some aspect of the company's ad campaign. "Most of the power audience is on Facebook and YouTube."
Twitter is designed to thrive during events like the Super Bowl, the National Football League's championship on Feb. 7 that will draw people to their televisions with an eye on their smartphones. But the company is struggling to find its footing at a time when bigger rivals like Facebook and Google are pushing into its territory. Wix.com's view of Twitter as insignificant reflects a wider question about its role in the digital media landscape, with some marketers expressing increasing impatience about the company's direction.
Part of the problem is scale. Shai knows that many people will go to Twitter to talk about touchdowns, tackles, and even commercials for a game that last year attracted television viewership of about 114 million. But Twitter's user base is about one-fifth the size of Facebook's, and he wants to sell Wix's services to the widest possible audience.
Even Bigger Challenge


Another headwind is coming from Facebook and Alphabet Inc.'s Google. Both have gotten better at syncing their promotions with live events, making it easier for Shai to work with them for ads that would otherwise be in Twitter's sweet spot. When Google announced its new real-time ad product in January, it highlighted Wix as the brand that would be testing it out during the Super Bowl.
Many advertisers still see Twitter as the leading way to target people at the exact time they are engaged in, say, a football game, an award show, or the season finale of a television show. But that may be changing.
Mike Sheldon, chief executive officer of the advertising agency Deutsch, is working on a Super Bowl campaign with Twitter and Facebook around a new product for Yum! Brands Inc.'s Taco Bell. While the ad effort is much more noticeable on the restaurant chain's Twitter profile than its Facebook page, Sheldon said his campaigns on Twitter show markedly less engagement.
"In the digital world, everything has 100 percent measurement to it," Sheldon said. "It's purely survival of the fittest, and Twitter isn't the fittest."
Twitter Campaigns
It's not for lack of effort. Twitter struck a deal with the NFL to show quick clips of games on the site, for example. Fox Sports will be broadcasting some shows during Super Bowl week out of Twitter's San Francisco headquarters. Pepsi is using Twitter ads to showcase exclusive behind-the-scenes content on game day and Verizon is giving away game tickets through its #minute50 campaign. More than 29 million people tweeted about the game last year, according to Dave Pattillo, Twitter's director of sales.
"People come to Twitter for all the Super Bowl information, all the updates and live banter," Pattillo said. "There's all this very unique content that only happens here."
But there are shortcomings in a smaller audience. Twitter has about 320 million users, 66 million in the U.S., and the company is still in the early stages of making money from people who aren't logged into the site. Meanwhile, larger competitors have started to focus new products on live events. After Twitter acquired Periscope, Facebook started letting its users live-stream video content. The world's largest social network, which said it has 650 million sports fans, also built a tool for following and posting about sports
games as they happen. It's clunky for now, but could threaten Twitter's dominance if improved, advertisers said.
If marketers are worried about the number of Twitter users, they aren't telling the company, Pattillo said. At the Consumer Electronics Show, in meetings with CEO Jack Dorsey and Chief Operating Officer Adam Bain, "not once did the user growth come up," he said.
Carrie Seifer, a president of digital at Starcom Mediavest Group, said she met with Twitter at the show and talked about the company's plans for Moments and video advertising, both of which she thinks are promising.
"Their ad model and their advertising is not the problem, it's the growth of new users," she said. "We always need to work with a platform that's growing because our clients always need new customers. Fresh customers are extremely important."
Size Versus Impact
It may be better to think of the value of Twitter's audience in terms of quality rather than quantity. Getting a message circulating among its influencers often guarantees a story will have a life on other social platforms, according to Bob Pearson, president at W2O Group, which helps clients with branding. Twitter is also working to be less confusing for new users, adding a Moments section to curate the best of its 140-character tweets about live events.
But the site is still "too much about who said what to who," Pearson said. "At the end of the day, all of these companies want to sell products. Twitter's missing that last part of continuing the experience to a purchase."
Ian Schafer, the founder and chairman of advertising agency Deep Focus, thinks Twitter can succeed at a scale that doesn't rival Facebook or Google. But it has to improve its ad products to do so. "I think it needs to go further in how it uses real-time data to make advertising more effective. On and off Twitter," he said.
Twitter will likely give its view about how the company performed during the Super Bowl on a call with investors after releasing fourth-quarter earnings Feb. 10. Twitter shares have declined by more than half in the past year, amid executive turnover and slowing growth.
While Twitter has built a business with more than 2 billion in annual revenue, it's a fraction of the $69.6 billion advertisers spent on TV last year, according to eMarketer.
And until the product can draw a bigger audience, Wix's Shai says it's "an almost non-relevant source" of leads.
"We are not spending the amount of money that we wish we could, because of the performance and return on investment," Shai said. "I hope one day they will come up with something, I really hope so."