technology
Sharp Says Bailout Talks to Continue With Both Foxconn, INCJ
By and
Board earlier had aimed to make a decision at today's meeting

Battle has been seen as test case of Japan market's openness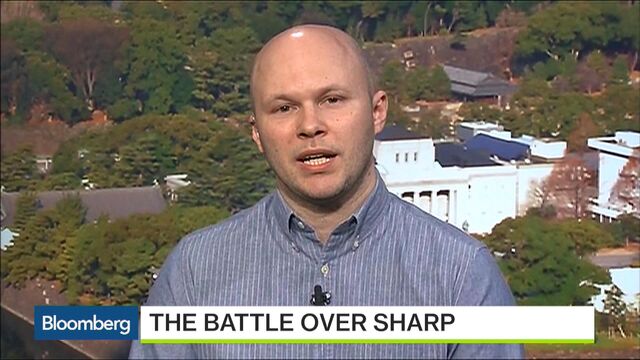 Sharp Corp. said it will continue negotiating a rescue plan with both Taiwan's Foxconn Technology Group and the Innovation Network Corp. of Japan, and aims to reach a final decision on the competing offers within a month.
Sharp Chief Executive Officer Kozo Takahashi told reporters Thursday that neither of the potential partners is preferred over the other at this point, contradicting several media reports. Sharp's board had earlier planned to make a decision today on its favored bailout partner, people familiar with the matter had said.
"Both parties are on the same footing," Takahashi said.
The battle has drawn attention as a test case of Japan's willingness to open its economy, following Prime Minister Shinzo Abe's appeal for market reforms and overseas investments to boost growth. Struggling companies like Sharp -- which has now lost money for five straight quarters -- have long been able to rely on the country's government and banks for support.
Sharp shares soared today after Japanese broadcaster NHK reported it planned to give preference to Foxconn and that the company had raised the value of its offer to more than 700 billion yen ($5.9 billion). The stock gained 17 percent to close at 160 yen in Tokyo trading.
Personal Appeal
In January, Foxconn Chairman Terry Gou traveled to Japan and made a personal appeal to Sharp's board, its major banks and government officials to win the deal. Though his company is offering more money, Sharp had been inclined to take the deal with government-backed INCJ, which offered about 300 billion yen, people familiar with the matter said last month.
"Both options have a good chance of turning Sharp around, but it's very difficult to compare the two at this point," Toshihiro Uomoto, the chief credit strategist in Tokyo at Nomura Holdings Inc., said prior to the announcement. "Foxconn's acquisition is likely to come with all kinds of conditions. INCJ's deal will also entail some restructuring."
Takahashi said Thursday that the offer amount wasn't the only consideration and that losing propriety technology to a foreign company wasn't a factor in weighing the Foxconn deal. He also said Sharp is "devoting more resources" to evaluating the Foxconn plan.
A deal with INCJ would allow Sharp to keep its technology within Japan and cooperate more closely with domestic companies, people familiar with the matter have said. INCJ's investment would be the most recent example of Japan's government providing support to struggling domestic companies to keep technology out of the hands of foreign rivals. Four years ago, INCJ created Japan Display Inc. from the struggling screen units of Toshiba Corp., Sony Corp. and Hitachi Ltd. with a 200 billion yen infusion.
"We are seeking growth while keeping Sharp DNA intact, because breaking up the company isn't good for anyone," Takahashi said.
Sharp also reported its fifth straight loss today as it released financial results. The Osaka-based company had a net loss of 24.7 billion yen in the three months to Dec. 31, compared with with analyst estimates for a loss of 8 billion yen.
(
Updates with CEO comments from third paragraph.
)
Before it's here, it's on the Bloomberg Terminal.
LEARN MORE