Oil Crash Won't Derail Saudi Arabia's Pricey Security Agenda
by and
Oil-price plunge won't affect foreign policy, minister says

Saudi Arabia steps up its strategic role in the Middle East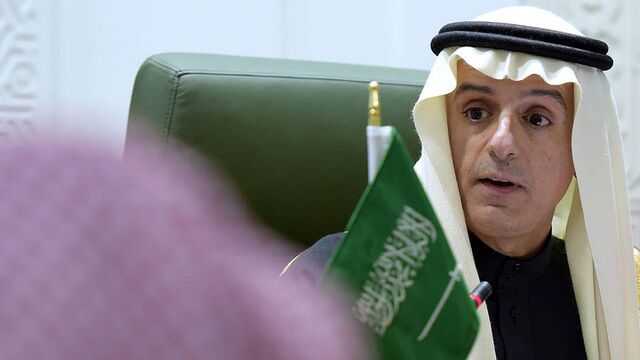 Saudi Arabia won't let the plunge in oil prices derail a regional agenda that includes waging war in Yemen and funding allies in Syria and Egypt, Foreign Minister Adel al-Jubeir said in an interview.
"Our foreign policy is based on national security interests," al-Jubeir said on Thursday at the Ministry of Foreign Affairs headquarters in the kingdom's capital, Riyadh. "We will not let our foreign policy be determined by the price of oil."
The world's largest oil exporter, traditionally a cautious actor on the Middle Eastern stage, has become more assertive during the 13-month reign of King Salman. Saudi Arabia is fighting in Yemen against Shiite rebels it says are backed by Iran. It's also sending billions of dollars to Egypt, to fend off instability in the most populous Arab country, and arming the increasingly beleaguered rebels in Syria's civil war.
That's a costly agenda to finance with Brent crude at the lowest in more than a decade. The oil shock left Saudi Arabia with a budget deficit of about $98 billion last year, pushing the kingdom to cut spending on energy subsidies and building projects. It's also considering selling sovereign bonds and shares in its giant state oil company.
The return to world markets of Iran, Saudi Arabia's regional rival, is set to add to global supply.
Sanctions on the Islamic Republic "are being lifted and will be removed as long as Iran complies with the terms of the nuclear agreement," al-Jubeir said. "We believe there is sufficient room in the market for countries who produce oil."
Tensions between the two OPEC members have undermined efforts to end the war in Syria, where Saudi Arabia supports mainly Sunni militant groups trying to overthrow President Bashar al-Assad, who's backed by Iran. The countries are also at loggerheads over Yemen, though Western diplomats have played down Saudi claims about Iran's involvement on the Houthi rebel side there.
The Saudi-led intervention in Yemen, which began with airstrikes in March last year and has escalated to include ground troops, "was a war that nobody wanted to wage," al-Jubeir said. "This was a war to protect Yemen from collapsing and to protect the kingdom from the dangers of a militia that is armed with ballistic missiles and in possession of an air force that is allied with Iran and Hezbollah."
Saudi Arabia said this week that 375 of its civilians have been killed by missile strikes around the border with Yemen. The United Nations says about 6,000 Yemenis have died in the conflict.
While the U.S. has expressed support for the Saudi engagement in Yemen, in other areas the longstanding alliance between the countries has shown signs of fraying. Saudi officials have expressed concerns about last year's U.S.-backed nuclear agreement with Iran, and were angered when the U.S. called for former Egyptian President Hosni Mubarak to step down in 2011.
Al-Jubeir downplayed talk of a rift. U.S. and Saudi strategic interests are "aligned" on issues such as combating terrorism, restoring stability in the Middle East, and energy policies, he said. "Where we may have some disagreement, those disagreements will pertain to the tactics not the strategy."
In Syria, Saudi-backed rebels have suffered a series of defeats at the hands of Assad and his Russian and Iranian allies. Peace talks in Geneva broke down this week as the government forces advanced.
Saudi Arabia would like to see more military support for the rebels to bring about "a change in the balance of power on the ground," al-Jubeir said. "I think the U.S. agrees but may have different opinions with regards to how much weapons to provide and at what point to provide those weapons."
Al-Jubeir also dismissed the notion that the U.S. was less engaged in the Middle East.
"If anything, we see the American presence in the region increasing, whether it's in the number of troops the United States has, whether it's in the number of military equipment or whether it's in the number of working groups that the U.S. has established with the countries in the region," he said.
Still, he said some of the dynamics have changed.
"What we have seen is a readiness and willingness of countries in the region, including Saudi Arabia, to step up and do more."
Before it's here, it's on the Bloomberg Terminal.
LEARN MORE