Redstone Tough-Guy Era May Be Drawing to a Close in Hollywood
by and
Made deals to win controlling stakes in CBS and Viacom

Introduced world to SpongeBob SquarePants and Jon Stewart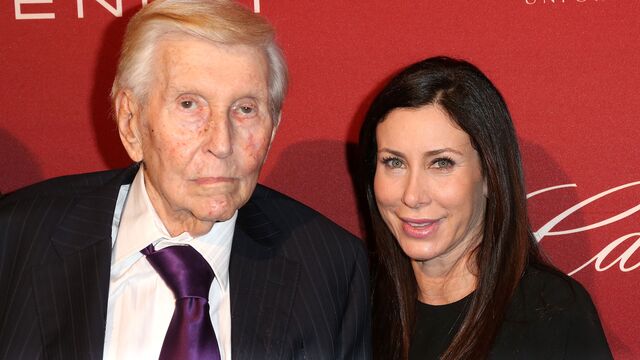 After a six-decade career spanning the glory days of drive-in movies to the phenomenon of streaming videos on smartphones, Sumner Redstone may quit the entertainment business Thursday, signaling a generational shift at two of the world's biggest media companies.
The 92-year-old, known in Hollywood as a hard-as-nails businessman willing to fire stars as big as Tom Cruise, stepped down Tuesday as chairman of CBS Corp., parent of the most-watched U.S. television network. Now Redstone may relinquish the executive chairmanship of Viacom Inc., which has a cable-channel lineup that includes MTV and Comedy Central. The Viacom board is scheduled to meet Thursday and expected to name his successor, according to a person familiar with the matter.

If Redstone gives up the Viacom post, it will be the first time since 1987 that he'll have no official role in running an empire that has a market value of about $40 billion. While he was never viewed as the creative force at CBS or Viacom, he steered the growth of companies that introduced the world to characters as diverse as SpongeBob SquarePants and Nicole "Snooki" LaValle, and to the comedy of Jon Stewart and Stephen Colbert.
"He was one of the key consolidators of cable networks, and movie and TV companies," said Harold Vogel, head of Vogel Capital Inc. who described Redstone as aggressive and tenacious. The mogul's deal-making ushered in a new Hollywood era when "standalone movie studios were not the way to go."
Failing Health
Though in failing health in recent years, Redstone was a legendary tough guy. He fired executives including Frank Biondi, Mel Karmazin and Tom Freston. And he canned Cruise after the star of "Top Gun" and "War of the Worlds" jumped on Oprah Winfrey's couch. "He was embarrassing the studio," Redstone told Vanity Fair, explaining why Paramount Pictures didn't renew the contract with Cruise's production company. The actor came back into the fold, making 2011's "Mission: Impossible-Ghost Protocol" for Paramount.
It was on Wall Street where Redstone's reputation was hardest won. He fought takeover battles for Viacom and what became Paramount, edging out the likes of Barry Diller, Carl Icahn, BellSouth Corp. and John Malone. "Sumner put together those great assets," said Eric Jackson, a managing director of activist fund SpringOwl Asset Management LLC who has called for new Viacom directors and executives.
Splitting Up
Redstone was in his 60s when he got Viacom; it's been controlled since by the closely held company his father started, National Amusements Inc., and that Redstone joined in the 1950s when it was in the drive-in business. Through Viacom, he bought Blockbuster Entertainment Corp., the video-rental chain, in 1994. The purchase of CBS came in 1999. With that, he was in charge of what was the second-largest media company after Time Warner Inc.
In 2005, Redstone announced he was splitting Viacom and CBS into separate companies, naming Freston and Leslie Moonves as the respective chief executive officers. After firing Freston, Redstone replaced him with Philippe Dauman, a Viacom director.
On Wednesday, CBS announced that Moonves, 66, had succeeded Redstone as CBS chairman. Redstone is now chairman emeritus, while his daughter Shari Redstone, 61, remains vice chairman. She said in a statement that no trustee of the family trust -- including herself and Dauman, also 61 -- should get the Viacom chairman's job. The trust will inherit the elder Redstone's shares in CBS and Viacom when he dies.
Succession questions dogged both companies as Redstone aged, sounding feeble on conference calls with investors before he stopped appearing on them at all. Questions about his mental condition arose last year, when he was sued by a former girlfriend, Manuela Herzer. She claimed he was incompetent when he kicked her out of his house and put Dauman in charge of making health-care decisions if he could no longer make them on his own.
The results of Redstone's examination by a geriatric psychiatrist retained by Herzer haven't been made public, and CBS didn't mention it in announcing Redstone's resignation.
Before it's here, it's on the Bloomberg Terminal.
LEARN MORE