Rajat Gupta's Insider-Trading Conviction to Get a New Review
by and
Gupta is highest-profile executive convicted in crackdown

Former Goldman director was released from prison in January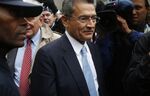 The highest-profile executive found guilty in a crackdown on insider trading convinced an appeals panel to review his conviction for passing tips to a billionaire hedge fund manager, the latest case to be scrutinized in the wake of a U.S. Supreme Court decision to clarify insider-trading laws.
The U.S. Court of Appeals in Manhattan on Thursday agreed to reconsider its rejection of former Goldman Sachs Group Inc. director Rajat Gupta's request to throw out his 2012 conviction. Gupta was convicted for passing tips to his friend Raj Rajaratnam, a co-founder of the Galleon Group LLC hedge fund, about Berkshire Hathaway Inc.'s $5 billion investment in the bank and its financial results.
Insider-trading cases are coming under renewed scrutiny since the Manhattan appeals court threw out the convictions of two hedge fund managers in December 2014, ruling a person passing inside knowledge had to at least potentially get some benefit of value, such as money. The decision upended the convictions of another 12 people won by Manhattan U.S. Attorney Preet Bharara in a crackdown on insider trading and gave hope to the 67-year-old Gupta.
Gupta's attorney, Gary Naftalis, had argued that the denial of his bid to throw out his conviction should be reviewed in light of the Supreme Court's decision last month to hear an appeal of a man found guilty for trading on information provided by a relative who didn't get anything in return.
Insider Trading Defined?
That ruling is significant because the high court had previously declined to review the December 2014 decision. The Supreme Court's eventual conclusion may make it clear what kind of benefit a tipper needs to receive for it to be considered insider trading.
Doug Whitman, a stock trader convicted in 2012 of trading on illicit tips about Polycom Inc., Google Inc. and Marvell Technology Group Ltd., was ordered released from a California halfway house earlier this week, becoming the first person to benefit from the Supreme Court's decision.
"We are pleased with the court's ruling and we believe we have meritorious issues to present to the Court of Appeals," Naftalis said in a telephone interview.
The Manhattan U.S. Attorney's office declined to comment on the Appeals Court's decision.
Gupta, who previously led McKinsey & Co., became the highest-ranking executive to be charged in a seven-year insider-trading crackdown by the U.S. He had asked U.S. District Judge Jed Rakoff to overturn his conviction, arguing the U.S. didn't prove he got a personal benefit for the tips. Rakoff denied the request in July, and the appeals court in December declined to overturn Rakoff's decision.
Gupta served 19 months in federal prison in Massachusetts and was freed last month after receiving credit for good behavior against his 30-month sentence. Rajaratnam, 58, is serving an 11-year sentence in the same federal prison complex for masterminding a multimillion-dollar insider scheme. He is scheduled to be released in July 2021, according to the Bureau of Prisons website.
The appeal is Rajat Gupta v. U.S., 15-2707 and 15-2712, U.S. Court of Appeals, Second Circuit (Manhattan.)
Before it's here, it's on the Bloomberg Terminal.
LEARN MORE