Port Sale to China Shows Flaws in `Ad-Hoc' Australian Oversight
By
Obama raised sale of Darwin infrastructure in Turnbull meeting

Senate report calls for closer scrutiny of foreign investment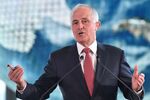 Australian Senators called on the government to tighten scrutiny of foreign investment after a Chinese company was allowed to lease a port used for military exercises with the U.S.
The Port of Darwin in Australia's far north is home to as many as 2,500 U.S. Marines, at a time the U.S. and China are jockeying for influence in the region. The leasing of the port to privately-held Chinese company Landbridge Group irked the U.S. with President Barack Obama querying Prime Minister Malcolm Turnbull over why Australia failed to notify its key ally of the deal.
The Senate committee's interim report released Thursday said the review process by the government's Foreign Investment Review Board "appears to be ad-hoc, run on a case-by-case basis" and lawmakers were considering whether it should be strengthened to become a statutory body. FIRB didn't immediately respond to a request for comment.
Australia faces a delicate balancing act in maintaining close relations with its main ally the U.S. while encouraging investment from China, its biggest trading partner. The sale exposed the limits of federal oversight of strategic assets as the local government was solely responsible for approving the deal
Sale a 'Catalyst'


"The Port of Darwin sale has become a catalyst, showing how the regulators can improve," said Peter Jennings, executive director of the Australian Strategic Policy Institute in Canberra. "Balancing economic and national security interests is the hardest thing to do and it's pretty obvious that the regulatory system has been designed to facilitate foreign-direct investment" rather than scrutinize it, he said.

The Chinese company didn't need consent from FIRB because asset sales by the nation's eight states and territories are exempt from such oversight under current laws, Defense Secretary Dennis Richardson told lawmakers in Canberra Dec. 15. He dismissed concerns that the People's Liberation Army could use the purchase to secure access to port facilities as "alarmist nonsense."
"The key concerns raised in relation to the foreign investment review framework, which came to the fore during the Port of Darwin lease process, relate to the transparency, adequacy, comprehensiveness and timeliness of the review process," Senate lawmakers said in the report. There were indications that that "strategic partners such as the U.S. were not necessarily fully advised of developments," it said.
Allied Forces
Documents issued by the Port of Darwin describe how the city's "position as a key strategic port city for Australian and allied defense forces, with dedicated facilities at its Fort Hill Wharf, is further cemented by U.S. Marines being based in Darwin and U.S. naval assets visiting the region."
Landbridge, which operates a 30-million metric ton per annum port in North Haizhou Bay in Shandong province, is paying A$506 million ($363 million) for the 99-year-lease to operate Darwin, with the Northern Territory government planning to use the proceeds to invest in new infrastructure.
"Landbridge intends to operate the Port of Darwin in a collaborative, open and transparent way with the Northern Territory Government and Defence over the
entire lease term," the company said in a submission to the Senate committee. Landbridge "is not a state-owned enterprise and does not engage in political activities," the company said.
'Wake-up Call'
Treasurer Scott Morrison said in December he was seeking agreement from states and territories to boost co-operation in reviewing sales of critical infrastructure assets to foreign investors.
The sale is "probably a bit of wake-up call for Australia's domestic foreign-investment approvals system," Amy Celico, a China specialist and former official at the U.S. Department of State who's now a principal at consulting firm Albright Stonebridge Group, said in an interview before Thursday's report. "National governments have to have a role in reviewing these investments."
Darwin, sitting on the nexus of the Pacific and Indian Oceans, is seen as a vitally strategic location in Obama's pivot to the Asia-Pacific, according to Scott Harold, a Washington-based analyst at Rand Corporation.
"Very few countries rival Australia's importance to the U.S. as an ally and a friend, with the Marines being based in Darwin seen as one of signature elements of the military pillar of the pivot," Harold said in an interview before the report was released.
Australia has previously cited national concerns in blocking the sale of assets to Chinese entities. In November, the sale of S. Kidman & Co., the nation's largest private landowner, to an overseas buyer reported to be Shanghai Pengxin Group wasn't allowed because one of its cattle ranches neighbors a weapons test area. In 2012, Huawei Technologies Co. was told not to bid for work on the national broadband network.
Australia had best be careful not to scare off Chinese investment through tougher restrictions, Daryl Guppy, president of the Northern Territory branch of the Australia China Business Council, said before the report was released. New investment from China into Australia in 2014 soared 54 percent to A$9.4 billion last year; it still trailed the U.S. with A$32 billion, Singapore with $31.8 billion and Japan with A$9.8 billion, government figures show.
"There is more than a whiff of racism over this issue, there's a strong stench of it," Guppy said. "We've got to be careful. We're not entitled to Chinese investment. We're in danger of kicking a world-class own goal."