New York Times Profit Beats Estimates on Digital User Gains
by
Publisher adds 53,000 net online subscribers in fourth quarter

Digital advertising revenue climbs 11% to $69.9 million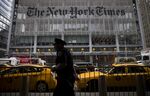 New York Times Co. posted fourth-quarter earnings that beat analysts' estimates as digital subscribers and online ad revenue rose.
Profit excluding some items rose to 37 cents a share, the company said Thursday in a statement, beating the 30-cent average of analysts' estimates. The U.S. newspaper publisher added 53,000 net digital subscribers, up from last quarter's 51,000.
The Times has focused on growing its digital audience as print readership continues to slump and total ad sales slide. Circulation makes up more than half of the company's revenue, up from more than a third in the fourth quarter of 2011.
In a separate memo to The Times' staff Thursday, Executive Editor Dean Baquet said the newsroom will look for areas to cut operating costs this year as it rethinks editorial coverage and digital strategies.
"To secure economic success and the viability of our journalism in the long term, the company has to look for judicious savings everywhere, and that includes the newsroom," Baquet said.
The company said it cut operating expenses 7.7 percent during the fourth quarter.

The shares climbed as much as 5.3 percent to $13.45 in New York, the biggest intraday gain in more than three months. They rose 1.6 percent to $12.97 at 2:38 p.m. The stock had fallen 4.8 percent this year through Wednesday.
Revenue of $444.7 million was little changed from a year earlier and compared with analysts' estimates of $439.7 million.
Digital advertising revenue climbed 11 percent to $69.9 million
Ad revenue fell 1.3 percent in the quarter, dragged down by print ad sales that fell 6.6 percent.
Operating expenses declined 7.7 percent.
The Times reported net income of $51.7 million, or 31 cents a share, compared with $34.9 million, or 22 cents, a year earlier.
Before it's here, it's on the Bloomberg Terminal.
LEARN MORE