business
Maduro Calls Owner of Largest Food Company `Thief' and `Traitor'
By
Empresas Polar head has criticized Venezuela economic policy

Polar's Mendoza blames shortages on lack of currency liquidity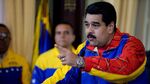 President Nicolas Maduro called the owner of Venezuela's largest privately-held company a "thief" and a "traitor" Thursday, blaming him for the country's economic woes.
In televised address, Maduro accused Lorenzo Mendoza, head of food giant Empresas Polar SA, of conspiring against his socialist government and meeting with his political opponents outside Venezuela's borders.
"He's a true thief," Maduro said to a crowd of red-clad supporters. "I call on the people to unmask Lorenzo Mendoza in the streets. I'm waiting for you Lorenzo Mendoza."
Polar's billionaire owner this week has criticized the government's stewardship of the economy and called on the Maduro administration to provide private businesses with much-needed foreign currency for imports.
In televised news conference on Tuesday, Mendoza said it was "absolutely critical" that the government fix liquidity issues if it hoped to resolve nagging food shortages.
Maduro has long maintained that Venezuela's triple-digit inflation and deepening recession are the result of a smear-campaign waged by his rivals. Maduro's opponents counter that the state of the economy is the result of more than a decade of state controls and government incompetence.
And while discontent over soaring prices and shortages of everything from chicken to car parts largely fueled the government's defeat in congressional elections last year, Maduro has so far doubled down on his socialist model.
"If you can't handle your companies, hand them over to the people," Maduro said.
Before it's here, it's on the Bloomberg Terminal.
LEARN MORE