Lonely Yuan Bulls Say the Hedge Fund Crowd Has It All Wrong
Bloomberg News
Forecasts for weak yuan challenged by small group of optimists

Goldman predicts PBOC will start boosting its reference rate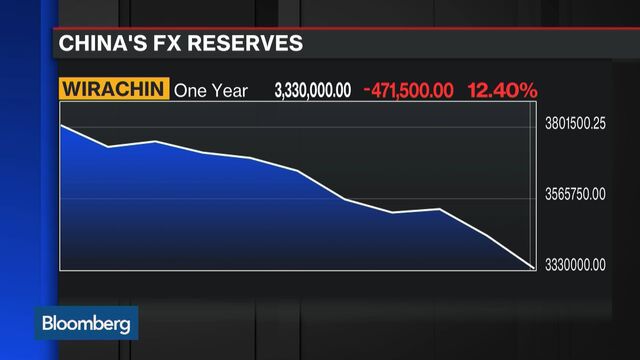 The way most currency forecasters see it, a weaker Chinese yuan is all but inevitable.
Thirty-nine of 45 strategists tracked by Bloomberg say the currency will drop against the dollar by year-end, while bearish option bets have swelled to a notional $443 billion as hedge fund managers from Bill Ackman to Crispin Odey positioned for declines. China's record levels of debt, slowing economic growth and accelerating capital outflows make a compelling case for pessimism.
Yet not everyone is jumping on the bearish bandwagon. A tiny but vocal group of forecasters -- including one analyst whose non-consensus call for a stronger euro two years ago proved prescient -- say the yuan is poised to rebound. The bulls point to multiple catalysts for a rally: downward pressure on the dollar from weakening U.S. growth, renewed efforts by China to tackle its debt problems and a growing realization among the country's policy elite that further yuan weakness could do more economic harm than good.
"The odds that the Chinese economy will improve before the U.S. does are pretty high," said Jason Schenker, the president of Austin, Texas-based Prestige Economics, who defied dire predictions for the euro in late 2013 to become one of the few analysts to accurately predict the currency's gain. The "massive dollar strength" of recent years will soon unwind, helping to boost the yuan by 2.8 percent this year, he said.

The argument for yuan strength got a boost this week. On Wednesday, the Bloomberg Dollar Spot Index plunged 1.7 percent, battered by growing doubts that the Fed will be able to raise borrowing costs in 2016 and data showing the weakest expansion in U.S. service industries in two years. The greenback extended its drop on Thursday amid rising American jobless claims and declining factory orders.
China's central bank lifted its reference rate for the yuan by the most in two months on Thursday and increased it by a similar amount on Friday. The currency has strengthened 0.4 percent in the past four weeks -- the longest such run since October 2014 -- after dropping 4.5 percent last year for its biggest annual retreat in more than two decades.
"The Fed will give up on its hiking process due to the weakening U.S. economy," providing scope for the yuan to strengthen, said Takahiko Sasaki, a Tokyo-based market economist from the foreign-exchange division at Mizuho Bank Ltd. Sasaki predicts the yuan will end the year at 6.4 per dollar, versus 6.5693 on Friday.
Goldman Outlook
The People's Bank of China will probably strengthen the yuan's reference rate over the next few weeks as officials seek to avoid a tightening of financial conditions -- via capital outflows and tumbling equity markets -- that resulted from a string of weaker fixings earlier this year, said Robin Brooks, the head of exchange-rate strategy at Goldman Sachs Group Inc. Policy makers are also realizing that yuan weakness triggers bigger declines in regional peers, undermining China's ability to boost exports by depreciating against the dollar, he said.
QuickTake The People's Currency
Chinese authorities have shown determination to support the yuan over the past month, stepping up intervention in the foreign-exchange market, tightening capital controls and running articles in state-controlled media warning that bets against the currency will fail. Yuan short sellers "haven't done their homework," the official Xinhua News Agency said in an English-language article last week.
The government's efforts to drive away bears have had a limited impact so far. Options wagers that pay out if the yuan weakens below current levels have grown by 42 percent this year, with the market pricing in 58 percent odds that the currency will drop by the end of 2016.
Hedge Funds
Hedge fund bets against the currency have become so numerous, according to Bill Gross of Janus Capital, that he compared the wagers in a Twitter post on Wednesday to the speculative attack on Britain's pound in 1992. Odey, who runs Odey Asset Management, has said the yuan should fall by at least 30 percent and Mark Hart of Corriente Advisors has called for a 50 percent devaluation. While most forecasters aren't predicting such an extreme move, the median estimate in Bloomberg's survey of analysts is for a 2.8 percent depreciation by year-end.
For Schenker, the outlook for yuan gains is predicated on a stronger Chinese economy. The central bank has cut its benchmark lending rate six times since November 2014 to support the expansion, while the government has targeted a range for economic growth of between 6.5 percent and 7 percent this year.
Big Surprise
One area of potential good news in 2016 is the country's efforts to repair the balance sheets of over-indebted local governments, according to Cliff Tan, head of global markets research at Bank of Tokyo-Mitsubishi UFJ in Hong Kong. Regional authorities could sell about 6 trillion yuan ($912 billion) of bonds this year, which will include new debt as well as securities sold to swap expensive local government obligations with cheaper municipal notes, people familiar with the matter said last month.
"We are anticipating a change in China's economic strategy, to one that turns to restructuring troublesome local government debts," said Tan, who predicts the yuan will strengthen about 1 percent by year-end. "If this happens, we think the result would be markedly changed market perceptions about China, about the yuan and a change in the direction of capital flows."
If the bulls are right, it's going to be a shock not only for yuan traders, but for investors around the world, according to Goldman's Brooks.
Given that markets are so bearish on China, a stronger yuan "would be a huge surprise," he said. "That will massively wrong-foot the market and actually set off a meaningful risk rally."
— With assistance by Tian Chen
Before it's here, it's on the Bloomberg Terminal.
LEARN MORE